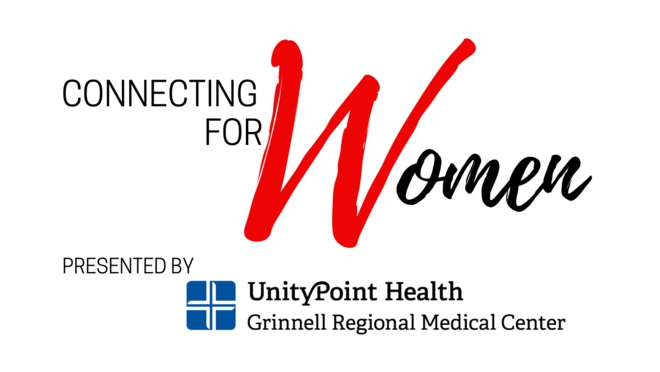 GRINNELL, IA – The Grinnell Chamber of Commerce will be hosting two social networking events and one keynote speaker event this spring for their Connecting For Women series. Connecting for Women is an opportunity for women within and around the Grinnell community to come together to socialize, network and learn. Connecting for Women events are sponsored by UnityPoint Health – Grinnell in partnership with Grinnell Mutual and S.H.E. Counts.
On April 13, the Grinnell Chamber will host a Connecting For Women networking social event to be held at Canary Underground Speakeasy, in the lower level of Prairie Canary from 4-6PM. This event is open to all and is free but RSVP's are encouraged. Food and beverages will be available for purchase.
On April 27, the keynote event will be held at the Grinnell Arts Council from 4-6 PM. Keynote speakers Hannah O'Polka and Dr. Andrea Tracy will present on the topic of women's health, wellness and nutrition. Hannah is a certified trainer, nutritionist and lifespan coach. She is co-founder of Clean Food Fix Wellness which offers 1-on-1 coaching, weekly meal plan prepping, online courses and most recently announced the launch of a gym facility. Hannah will walk participants through how to create a sustainable meal plan to save time, energy, & money in their busy lives. She hopes attendees walk away with confidence to implement these strategies, no matter the season of life they're in.
Dr. Andrea Tracy is an associate professor of psychology and neuroscience at Grinnell College. Dr. Tracy's primary research focuses on ingestive behavior – specifically, the role of learning in food choice and food motivation. She will walk participants through understanding how and why they may be making the food choices they do. The event is open regardless of membership status, but tickets are required. Tickets include an appetizer spread by G's Catering as well as a beverage ticket. Member tickets are $25, non members $30 and a GHS/GC student discount of $15 are all available for the keynote event.
The spring series will wrap on May 11 at Lily Lou Company (827 4th Avenue) with a breakfast networking social event from 8:30-10 AM. This event is open to all and is free but RSVP's are encouraged. Treats from Grin City Bakery and coffee will be provided.
For more information, to RSVP for the networking events or to purchase tickets for the keynote event please visit the Chamber website at www.grinnellchamber.org/en/events/connecting_for_women/ or call the Chamber office at 641-236-6555.