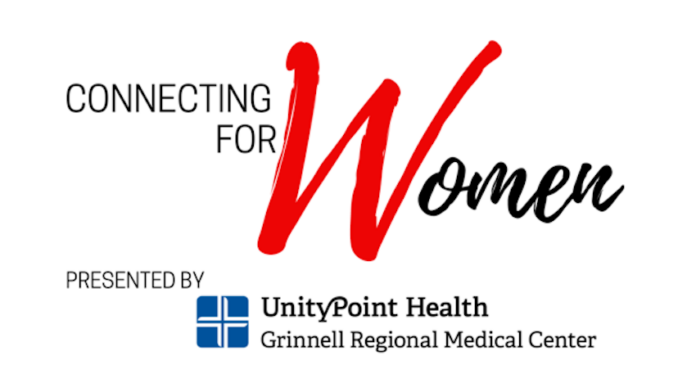 GRINNELL, IA – The Grinnell Chamber of Commerce will be hosting two networking events and one keynote speaker event this Fall for the Connecting For Women series. Connecting for Women is an opportunity for women within and around the Grinnell community to come together to socialize, network and learn. Connecting for Women events are sponsored by UnityPoint Health – Grinnell in partnership with Grinnell Mutual and S.H.E. Counts.
On Thursday September 21, the Grinnell Chamber will host a Connecting For Women business networking event to be held at The Grinnell College Golf Course from 8:15-9:30AM. This event is open and free to all, regardless of membership, but RSVPs are encouraged. There will be coffee and a breakfast platter provided. Participants are encouraged to bring their business cards and use the provided discussion questions to lead their conversations.
On Thursday, October 12, the keynote event will be held at the Grinnell Mutual Conference Center from 11:30AM-1PM. Keynote speaker Tina Bakehouse will present 3 Tips to Become a More Magnetic Communicator. Tina is an Iowa native, had a 10 year teaching career at Creighton University, founder of a communication center providing one on one coaching and consulting, she now works to help others share their stories with confidence and communicate effectively, both in business and interpersonally.
Ticket includes Pagliai's cavatelli, salad and bread as well as access to the keynote event. Member tickets are $30, non members $35.
The Fall series will wrap on Thursday, October 26 at Solera (829 Broad Street) with a networking social event from 4:30-5:30PM. This event is open and free to all, regardless of membership, but RSVPs are encouraged. Food and drink will be available for purchase.
For more information, to RSVP for the networking events or to purchase tickets for the keynote event please visit the Chamber website at www.grinnellchamber.org/en/events/connecting_for_women/ or call the Chamber office at 641-236-6555.