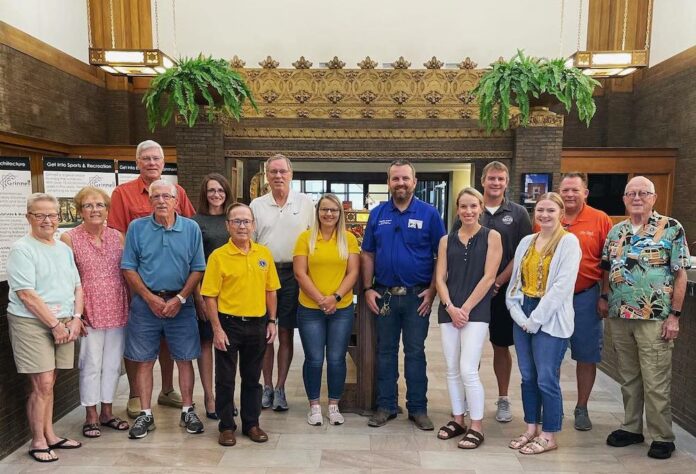 Ambassadors heard from
Grinnell Lions
today about their upcoming Ag Day event, their tissue transport project, the kid's eye screening and the discount card fundraiser.
Ag Day is next Thursday, August 31 starting at 3 PM in Central Park. This year's featured tractor is a 1972 John Deete 4020 owned by Darryl Hull. Lions have 34 exhibitors schedule to participate including a number of favorites like farm equipment from area dealers, FFA petting zoo and pedal tractor obstacle course, Grinnell Fire Department, Grinnell Historical Museum, Iowa Corn Growers Poweshiek County Conservation, Dari Barn on the Moove and more. Route 66 will perform form 4-5:50 followed by speaker Ashley Wolfe, GHS Ag Instructor and FFA Advisor, and the presentation of the Ag Business of the Year and Farm Family of the Year awards. The Lary VanErsvelde Tractor Parade will begin at approximately 6:35 PM.
Ambassadors also learned more about the Lions cornea tissue transport program. Grinnell Lions are on call for 365 days of the year to transport cornea tissue from Altoona to Iowa City to patients waiting to get their eyesight repaired.
Grinnell Lions Club also sponsors free pre-school eye screenings. This program was previously done by taking polaroid photos of each student's eyes and photos were mailed to Iowa City for review. Thanks to a grant from Bayer Crop Science (formerly Monsanto), they were able to purchase a new digital camera a few years ago and now email the photos to doctors for review. 5-7% of the students they test are diagnosed with a vision problem.
The annual discount card sale to benefit GHS athletics is also going on. Cards are $20 and feature discounts to area businesses. Cards can be ordered online at
GrinnellToGo.com
, purchased from any Lions Club member or at the following retailers: Brown's Shoe Fit, Grinnell Eye Care, McNally's, Medicap Pharmacy, and Ramsey-Weeks.
Grinnell Lions meet every Tuesday at West Side Family Restaurant at noon for lunch and a short program. They're always looking for more members to join. If you're interested in learning more, stop out at West Side at noon on Tuesdays or reach out to any Grinnell Lions Club member.
Pictured L-R: Fran Conn, Dorothy Spriggs –
Carriage House Bed & Breakfast
, Al Henderson – Grinnell Lions, Larry VanErsvelde – Grinnell Lions, Rachael Kinnick – Grinnell Chamber, John McCleery – Grinnell Lions, Dave Stoakes – Grinnell Lions,
Whitney Bair Crawford, Agent with New York Life
& Grinnell Lions, Charlie Isaacs –
Theisen's
& Grinnell Lions, Rachel Arseneault –
Timm Agency, LLC-American Family Insurance
Trent Arment –
MCG – Mahaska Communication Group
, Marissa Pronschinske – Grinnell Chamber, Jeff Finch –
Wes Finch Auto Plaza
, Jack Mathews –
Our Grinnell