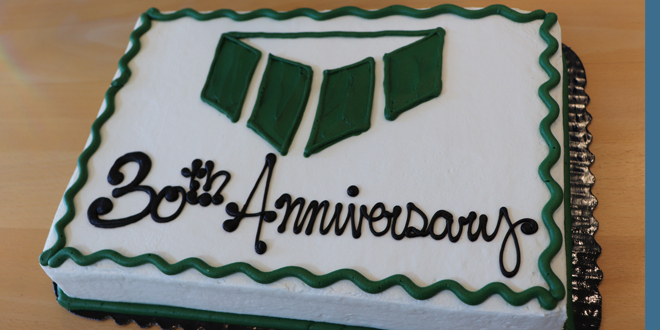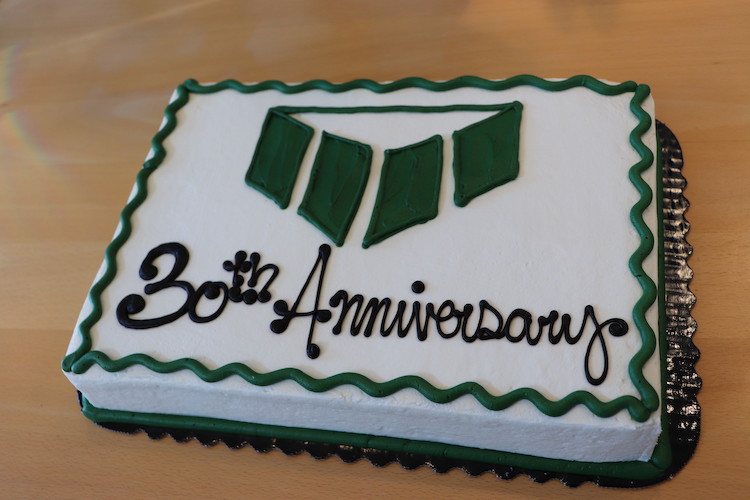 At the March meeting of the Greater Poweshiek Community Foundation (GPCF)board of directors, the business agenda ended with the pop of a champagne cork. The board members were toasting the 30thanniversary of the inception of the community foundation and looking forward to many more years of growth and local giving.
Since 1989 when Tom Marshall filed the incorporation documents and began gathering board members, GPCF has been actively making long-lasting positive contributions to the community. Marshall, who passed away in 2015, had a vision to better serve charitable organizations, educational institutions, and the community at large through philanthropic efforts and community projects. His leadership and generous spirit transformed this vision into reality and created today's GPCF.
The past three decades have been years of development, growth and evolution for GPCF. While GPCF was primarily responsible for scholarship funds and memorials shortly after its establishment, the board gradually built its reputation and role as a community campaigns manager, grant maker, and an umbrella agency for local nonprofit organizations. GPCF became a nationally certified community foundation and awarded National Standards for Community Foundations Certification in 2010. With this certification came the ability to offer Endow Iowa Tax credits for donors giving to endowed funds held by GPCF. Since 2010, endowed funds have grown from just under $1 million to nearly $6 million.
To give this growth perspective, the balance sheet for the first five years showed assets of less than $15,000 and assets of less than $100,000 nearly ten years in. GPCF served primarily as a pass-through entity for grant funds while trying to establish a donor base and clearly defined purpose. Persistent efforts by Marshall and a dedicated team of board members brought in scholarship funds, charitable remainder trusts and a county-wide granting program.
"We are very lucky Tom committed so much time and energy to bring GPCF to fruition," says Laura Manatt, current GPCF board president. "GPCF exists to benefit Poweshiek County and its residents in perpetuity. Donors can feel confident that their dollars are going to work to improve the lives of their neighbors and their communities-and will continue to do so for a very long time."
Collaboration in the mid-2000s between the Claude W. and Dolly Ahrens Foundation (CDAF), a fledging Grinnell-Newburg School Foundation, a growing Dollars for Scholars program and a looming capital campaign for Grinnell High School helped solidify GPCF's role in the community. With the creation of the Community Support Services (CSS) program under the leadership of Julie Gosselink, CEO of CDAF, and Shannon Fitzgerald, CFO of CDAF, the Community Foundation could fully realize its goal of supporting local nonprofits and creating viable sustainability in Poweshiek County.
"The CSS program allowed us a much more professional approach to managing funds and campaigns and created the infrastructure to support smaller organizations that had big ideas," says Nicole Brua-Behrens, Executive Director of GPCF. "The CSS program provides staff support and back-office services that are beyond the reach of what most volunteer-lead organizations can provide." With the support of CDAF via the CSS program, GPCF saw assets grow from just over $2 million in 2005 to nearly $9 million in 2018.
Today, GPCF manages over 120 different funds, including scholarships, endowments, pass-through funds, donor-advised funds, agency funds and campaigns for nonprofit organizations. In addition, GPCF supports the efforts of the Grinnell-Newburg School Foundation, Grinnell-Newburg Dollars for Scholars and the Grinnell Alumni Association and is the fiscal agent for the Jasper Marion and Poweshiek (JMP) Early Childhood Iowa board. "We have really grown in our identity in Poweshiek County," says Brua-Behrens. "We support a variety of organizations and donor-driven efforts and we want to be the first stop someone makes when they have a philanthropic idea in the community. We often can convene the right people to make great things happen."
The GPCF board has planned a year of celebration to mark the 30thanniversary of the Community Foundation.  "As we look forward to the next 30 years, we'll celebrate our history as well," says Manatt.  "We want more people to know about the value of GPCF to our county and how we're impacting our future here."  A highlight of the year-long celebration will be the Spirit of Giving event in October which will draw together former board members, past Spirit of Giving award winners and community members that are committed to the long-term success of Poweshiek County.  That event is scheduled for Thursday, October 10 at Grinnell Mutual Reinsurance Company. Everyone is welcome to join in the celebration.