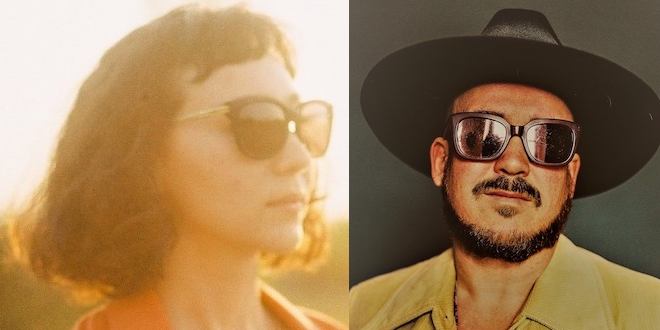 On Saturday, May 4, the Grinnell Area Arts Council will host singer-songwriters David Huckfelt and Katie Sin at the Loft Theatre. Huckfelt is a member of the Minneapolis-based band The Pines, who have performed in the Loft as well as Arts Council summer concert series Music in the Park. He is currently touring in support of his debut solo album entitled Stranger Angels. Katie Sin is the songwriting pseudonym of Grinnell's own Katie In, member of Pink Neighbor. Music will begin at 7:30pm.
Huckfelt first visited Grinnell with The Pines in January of 2017 as part of the Music from the Prairie collaboration between GAAC and the Grinnell College Center for Prairie Studies. The show was highly successful, and the musicians and event organizers immediately began talking about future opportunities. Huckfelt says, "Grinnell is one of those classic Iowa treasure communities…where conscientious people are quietly finding a thousand ways to make the world better. Prairie poet farmers who understand that there are ways to feed the world without poisoning the land. Performing in Grinnell, the people I meet and talk to are doing the coolest stuff."
Recent music events have taken place at the new Arts Council space The Stew, but this performance will be back in the Loft Theatre. Arts Council events manager Erik Jarvis explains, "The Stew music nights have been integral to developing that space and community, but we're anticipating a large turnout for this event, and the Loft is slightly bigger. Plus, there was something really magical about the Pines' performance up there last time."
In adds, "A space like the Loft Theatre, with its intimate seating and black-box feel, allows performers to come in and transform the space with their medium, whether it's theatre, comedy, or music. I remember when The Pines played there in 2017. With the curtains open and the 'skyline' of Broad street visible, I was moved by the beautiful environment created by the Pines' performance, and the wonder it stirred in me is still memorable."
For fans of Pink Neighbor and The Pines, this will be an opportunity to experience something related, but slightly different. In says, "Katie Sin is a project I developed as an outlet for trying out different musical styles and writing songs that didn't seem to fit in the world that Erik and I created for Pink Neighbor. Where Pink Neighbor is a beach party, Katie Sin is more like a solitary walk on a sunny day."


Huckfelt explains, "There's both great and hard things about having this project hinge entirely on me as opposed to The Pines, and in a lot of ways this project carries forward many things The Pines care about and developed, but it's more freewheeling for me to be pulling things from thin air as a solo artist and have a certain kind of one-on-one conversation with the music
Indeed, both songwriters have a deep interest in conversing and contemplating with their audiences, particularly in smaller communities. Huckfelt, who is originally from Burlington, Iowa, says, "I think people can recognize art and music that was born right where they're from, and something the feel, the sound, the poetry resonates as familiar in small towns with my music. There's a radical element in small towns where we're all trying to shift the conversation toward new solutions for economics, community, conservation…and we've got to do it together. That doesn't happen the same way in big cities, and all the negative space and room to breath give a richness to performances in these intimate settings."
In says, "I'll have to borrow the slogan of my favorite restaurant in town to describe what I'm going for: Relish's local foods, global flavors seems to capture what I'm trying to do with my music. I'm fusing together all the things that inspire me, which is a very global collection of influences that span place and time. Meanwhile, the music is still attached to the place it's created, in the subject matter, the musicians performing it, and even where and how it's recorded, making it very local at the same time."
This event is co-sponsored by the Grinnell Tourism Group. Tickets for this event will be available beginning Monday, April 8 at the Arts Center or online atwww.grinnellarts.org/tickets. They will be general admission, $10. This event is expected to sell out.
THE STEW – David Huckfelt (of The Pines) + Katie Sin, May 4
THE LOFT THEATRE – Open Spaces presents True West, April 19-21
STEWART GALLERY – Tilly Woodward, April 4 – May 2

More classes and events listed at www.grinnellarts.org