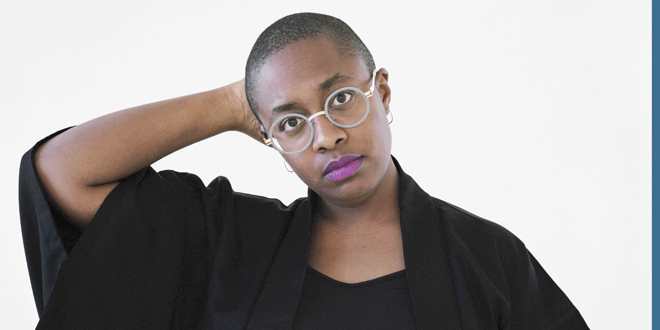 Cécile McLorin Salvant and the Aaron Diehl Trio will present a concert on Oct. 8
GRINNELL, Iowa – Grammy Award-winning jazz vocalist Cécile McLorin Salvant will perform with the Aaron Diehl Trio at Grinnell College on Tuesday, Oct. 8.
WHAT:
This concert is part of the college's Public Events Series, which draws artists from around the world to perform on campus, celebrating diverse perspectives and global understanding.
WHEN:
Tuesday, Oct. 8, 7:30 p.m.
WHERE:
Herrick Chapel, 1128 Park St., Grinnell
TICKETS:
Although the performance is free, tickets are required. Tickets will be available, beginning on Oct. 3, in the box office at the Bucksbaum Center for the Arts, 1108 Park St., Grinnell. The box office is open from noon to 5 p.m. Monday through Friday. Phone reservations are not accepted, although interested individuals may call the box office at 641-269-4444 to check on ticket availability during open hours.

WHO:
Cécile McLorin Salvant, daughter of a French mother and a Haitian father, was born and raised in Miami. She started classical piano studies at age 5 and began singing in a children's choir at 8. Early on, she developed an interest in classical voice.

In 2007, Salvant moved to southern France, to study law and opera. Ironically, it was in France that Salvant began to really discover the deep roots of jazz and American music, with the guidance of instructor and jazz saxophonist Jean-François Bonnel.
In 2009, after a series of concerts in Paris, Salvant recorded her first album "Cécile", with Bonnel's Paris Quintet. A year later, she won the prestigious Thelonious Monk International Jazz Competition.
Since 2010, Salvant has soared to the top of the music world, garnering praise and gathering awards. "She has poise, elegance, soul, humor, sensuality, power, virtuosity, range, insight, intelligence, depth and grace," said Wynton Marsalis. "You get a singer like this once in a generation or two."

Salvant's second album, "WomanChild," was nominated for a Grammy in 2014. Her third and fourth albums – "For One to Love" and "Dreams and Daggers" – both won Grammy Awards for Best Jazz Vocal Album.
She also has been honored with top spots in DownBeat's critic's polls in the categories of "Jazz Album of the Year" and "Top Female Vocalist." NPR Music has awarded her "Best Jazz Vocal Album of the Year" and "Best Jazz Vocalist."



In addition to Marsalis, Salvant frequently makes music with Aaron Diehl, Paul Sikivie, Lawrence Leathers, Kyle Poole and Sullivan Fortner. She has collaborated with Archie Shepp, John Clayton, Jeff Hamilton, Renee Rosnes, Bill Charlap, Fred Hersch, Jacky Terrasson and Darcy James Argue.
Critics praise Salvant's gifts as an interpreter of popular song. Fred Kaplan of the New Yorker praises her "emotional range" and her ability to "inhabit different personas in the course of a song, sometimes even a phrase – delivering the lyrics in a faithful spirit while also commenting on them, mining them for unexpected drama and wit."
Her newest release, "The Window," an album of duets with the pianist Sullivan Fortner, is a meditative cycle of songs about the mercurial nature of love.
DETAILS:
Grinnell College welcomes the participation of people with disabilities. Information about parking and accessibility is available on the college's website: www.grinnell.edu. Herrick Chapel is equipped with an induction hearing loop system, which enables individuals with hearing aids set to T-Coil to hear the program. Accommodation requests may be made to Conference Operations at 641-269-3235 or calendar@grinnell.edu.
Minors under the age 18 need to be accompanied by an adult. Grinnell College is not responsible for supervision of minors on campus.