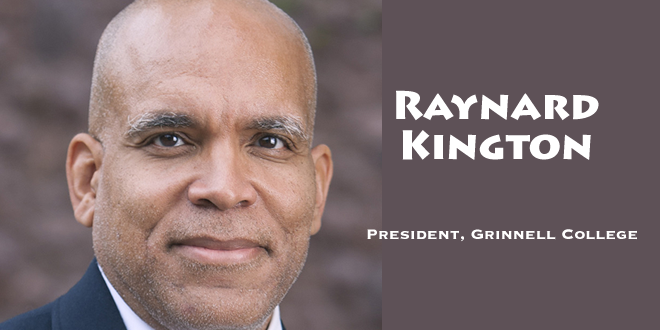 The African American Museum of Iowa will recognize Raynard S. Kington on Oct. 3
GRINNELL, Iowa — The African American Museum of Iowa will recognize Grinnell College President Raynard S. Kington during its 2019 History Makers Gala on Thursday, Oct. 3, in Cedar Rapids.
History Makers, according to the museum, "are individuals who modify the course of history with their actions by imparting knowledge and impacting communities. Through their existence and influence, history is forever changed."
President Kington will be honored for his distinguished leadership of Grinnell College since 2010. The independent institution in Grinnell, Iowa, emphasizes individually advised learning and prepares its graduates to responsibly contribute to the common good.
"The only reason I am the president of a college is I really deeply believe that there are few better investments for a society in its future than higher education and knowledge," Kington said in his prepared remarks for the awards ceremony.
Under Kington's guidance, Grinnell College has strengthened its science and liberal arts programs, built a new Humanities and Social Studies Center and received a $1 million grant from The Andrew W. Mellon Foundation to support "The Humanities in Action: Curriculum, Communities, Careers."
Kington also works closely with local community leaders to advance economic development initiatives and enhance the quality of life in Grinnell.
In addition, Kington established the $100,000 Grinnell College Innovator for Social Justice Prize to honor individuals who have demonstrated leadership in their fields and who show creativity, commitment and extraordinary accomplishment in effecting positive social change.
On Oct. 1, he will present the 2019 Grinnell Prize to Shafiq R. Khan, founder and CEO of EMPOWER PEOPLE. Kahn and his organization work to eradicate bride trafficking in North India and to empower girls and women who have been affected by this practice.
At the Oct. 3 gala, the African American Museum of Iowa will present a Lifetime Achievement Award to renowned opera singer Simon Estes of Centerville.
In addition to Kington, three other History Makers will be recognized:

Lorinda Ampey of Marion, an outstanding mentor and director of programming and outreach at the Boys and Girls Club;

Marie Christian of Davenport, a retired educator, career counselor, consultant and advocate for the prevention of substance abuse; and

Bridget Saffold of Waterloo, a registered nurse and coordinator of the Cedar Valley and Cedar Rapids Focus on Diabetes.
The gala, which is the museum's only fundraising event, will begin at 5:30 p.m. Oct. 3 in the Hotel Kirkwood Center in Cedar Rapids. Hundreds of statewide leaders and community members are expected to attend.
Proceeds will benefit the museum's efforts to carry out its mission to preserve, exhibit and teach the African American heritage of Iowa.