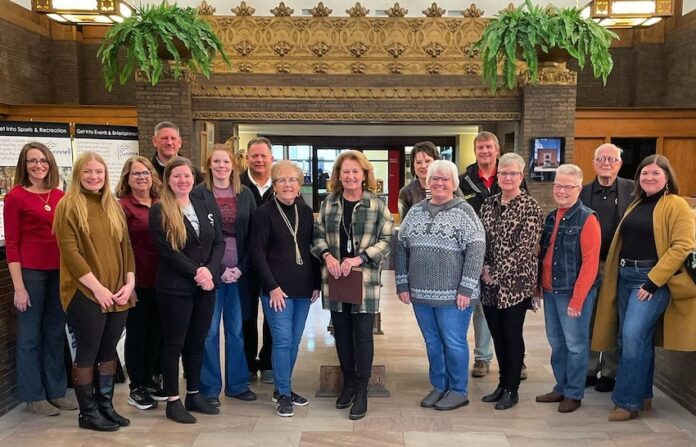 Ambassadors learned more about the Christmas Share and Goodfellows Holiday Meal today. Karen Klug-Frischmeyer, current organizer of the Christmas Share program, shared that it was started in 1987 and focused on giving away sweatshirts and towels. In 2010, they started to focus on family needs and began requesting qualifiers. Qualifiers include DHS program participation, LIHEAP registration, ministerial referral or health issue documentation. All registrations are kept confidential and information is destroyed at the end of the year. This year, there are 104 families registered, representing 248 individuals which includes 108 kids under 18.
In addition to kids gift items, household paper goods, personal hygiene products and more are often requested. Requests are shared with the sponsors who then purchase gifts and return them by December 4. Families and individuals pick up gifts on December 9 so there's plenty of time for the holiday excitement to build with gifts under the tree!
Pam Montgomery, the previous organizer of Christmas Share, also organizes the Goodfellows holiday meal. This program was started in 1913 by Adah Hopkins in an effort to bring families together over a hot holiday meal. Pam brought this program together with the Christmas Share when she was organizing both. All participating individuals and families in the Christmas Share program get vouchers for food for the holiday season.
Both of these efforts are championed solely by Karen and Pam with support from their spouses. There are limited other volunteers involved to help protect the anonymity of participants. If you're interested in supporting these efforts, financial donations to Christmas Share can be made at the Greater Poweshiek Community Foundation (greaterpcf.org) or if you're interested in donating items, you can email christmasshare79@gmail.com. If you're interested in donating to the Goodfellows meal, email goodfellowsgrinnell@gmail.com.
Pictured L-R: Rachael Kinnick – Grinnell Chamber, Marissa Pronschinske – Grinnell Chamber, Lisa Cirks – Cirks Financial Services, Phil Grout – Hy-Vee, Briana Gaunt – Community 1st Credit Union, Ashley Symbol – First State Bank, Jeff Finch – Wes Finch Auto Plaza, Dorothy Spriggs – Carriage House Bed & Breakfast, Karen Klug-Frischmeyer – Christmas Share, Pam Montgomery – Christmas Share & Goodfellows, Jennifer McAlexander – Hawkeye Lock & Security / JM Consulting, Trent Arment – MCG – Mahaska Communication Group, Donnette Ellie – Grinnell College Community Connections, Fran Conn, Jack Mathews – Our Grinnell, Erin Bustin – Grinnell School of Music