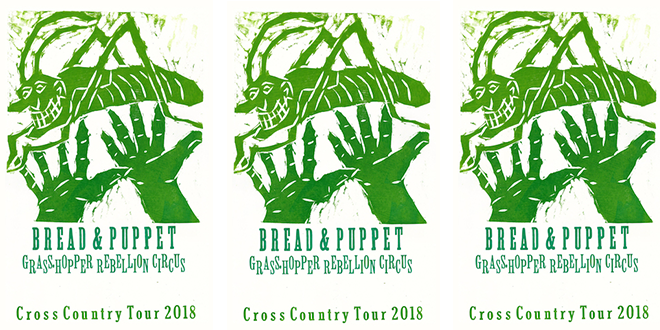 Grinnell College to host Bread and Puppet Theater performance Oct. 4
Troupe will present 'The Grasshopper Rebellion Circus,' a large-scale puppet spectacle
 GRINNELL, Iowa — Bread and Puppet Theater will perform the "The Grasshopper Rebellion Circus," a large-scale puppet spectacle, on Thursday, Oct. 4, at Grinnell College's Conard Environmental Research Area (CERA). The performance, which starts at 5:30 p.m., is one of many events celebrating CERA's rich history and 50th anniversary during the 2018-19 academic year.
Bread and Puppet Theater is an internationally celebrated theatrical company that champions a visually rich, street-theater brand of performance art filled with music, dance and slapstick. Its shows are political and spectacular, with huge puppets made of papier mache and cardboard. Founded in 1963 by Peter Schumann on New York City's Lower East Side, the company has been based in Vermont since the early 1970s.
"The Grasshopper Rebellion Circus" explains and teaches riot and rebellion against intolerable situations with the help of papier-mache weaponry and the appropriately riotous Bread and Puppet Brass Band. Bread and Puppet Director Peter Schumann describes "The Grasshopper Rebellion Circus" as follows:
"Tigers roar, apes drum their chests, horses neigh and celestial grasshoppers teach ICE agents the basics steps of grasshopper rebellion dancing. A paradise investigation team analyses the earthlings' relationship to paradise, while major representatives of Mother Earth attend a festive Puerto Rican dance of liberation from natural and political disaster."
After the performance, Bread and Puppet will serve its popular free sourdough rye bread with aioli. In addition, Bread and Puppet's "Cheap Art" — books, posters, postcards, pamphlets and banners from the Bread and Puppet Press — will be for sale.
Bread and Puppet comes to Grinnell as part of a 14-week tour of North America. The Oct. 4 performance is part of Grinnell College's Public Events Series, which promotes free entertainment for the campus and local communities that celebrates diverse perspectives and fosters cultural awareness and global understanding.
Grinnell College will provide free bus service to and from CERA for ticketholders who sign up for the service at the box office. There will be two buses, one leaving at 4:45 p.m. and another at 5 p.m. from the Bucksbaum Center for the Arts at the intersection of Sixth Avenue and Park Street in Grinnell. Limited parking is available at CERA, 11203 S. 12th Ave. E., Kellogg.
Although the performance is free, tickets are required. Tickets will become available on Monday, Oct. 1, in the box office of the Bucksbaum Center for the Arts at the corner of Sixth Avenue and Park Street.
Tickets are free to those present at the box office, which is open weekdays from noon to 5 p.m. Although phone reservations are not accepted, individuals may call the box office at 641-269-4444 during open hours to determine whether tickets are still available.
CERA, the site of the performance, has welcomed thousands of Grinnell College students and visitors from all over the world who have explored and learned about the unique nature and culture of the tallgrass prairie region at the college's living ecosystem and laboratory. The college purchased what is now a 365-acre field station about 11 miles west of campus in 1968. CERA is open to the public for hiking, bird watching, photography, painting, drawing and other facets of the study and enjoyment of nature.
Grinnell College welcomes the participation of people with disabilities. Information about parking and accessibility is available on the college's website: www.grinnell.edu. Accommodation requests may be made to Conference Operations at 641-269-3235 or calendar@grinnell.edu.
The college also welcomes the presence of minors at all age-appropriate public events and for informal visits, with the understanding that a parent, legal guardian, or other responsible adult assumes full responsibility for their child's safety and behavior during such visits or events. In these cases, the college expects that an adult responsible for the visiting child takes measures to ensure the child's safety and sees that the child complies with directions of college personnel. Grinnell College is not responsible for supervision of minors on campus.