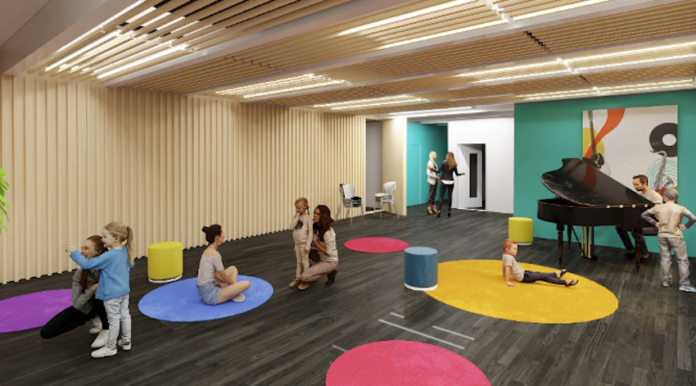 The Grinnell School of Music is delighted to announce a generous sponsorship from Grinnell State Bank to establish the Marion Austin Jones Classroom.
Grinnell State Bank has pledged $100,000 towards the Grinnell School of Music's $750,000 capital campaign, earning the naming rights to the main classroom space in the School's new facility, opening August 2024 at 720 5thAvenue in Grinnell.
The Marion Austin Jones Classroom will be a large, sunny, open-concept and multi-use space, adjacent to the main lobby and waiting area and clearly visible from the building's north-facing windows along 5th Avenue. Many programs, from small-group lessons to band rehearsals, masterclasses to public events, and our popular Music Together® classes for young children and their caregivers, will take place there – making the Marion Austin Jones Classroom the central hub of activity at the Grinnell School of Music.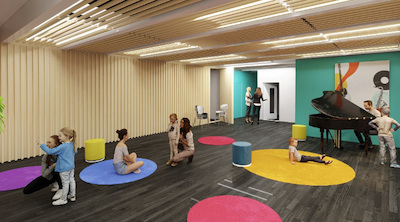 Artist's rendering, from the perspective of the front lobby, looking South into the Marion Austin Jones Classroom at the Grinnell School of Music (Dan Clark, Generate Design)
Marion Austin Jones was passionate about music and singing from a very young age. As a young woman she sang in the one of the Chicago Cathedrals and was often hired to sing at weddings. She attended Monmouth College in Monmouth, Illinois and received her bachelor's degree in theater and music. During her time at Monmouth College, her love of music and theatre flourished as she was a lead in many of the main stage musicals. Her grandfather, T. Merrill Austin, started the School of Music at Monmouth College, so music education was very important to her and her family. Marion sang in the Church and Community Choirs and was also the director of her Church choir. She so enjoyed singing and directing musicals with the Grinnell Community Theater including Camelot, Annie Get Your Gun, Peter Pan, and The Music Man. Her passion for music and theatre had a profound impact on her sons and grandchildren, who all learned an immense appreciation for the arts from Marion at a very young age.
"As a family, we know how important music education was to Grandma Marion," says Kelsey (Jones) McCulley. "She would have loved to see this project come to life and we know that she is smiling down on us for making the decision to support the Grinnell School of Music in her honor."
"In the nine years I've lived in Grinnell, numerous people have told me about Marion: how much she loved music, and how much of an impact she had on music and theatre here in Grinnell. It only seems fitting to have that legacy honored at the Grinnell School of Music," says Executive Director Erin Bustin. "This gift from Grinnell State Bank is transformative for us."
The Marion Austin Jones Classroom will be dedicated at a special unveiling event prior to the Grinnell School of Music's official public opening.
About Grinnell State Bank
Grinnell State Bank was organized in 1925 by Grinnell businessmen to be an independent community bank and is still fulfilling that role today. The Jones Family has owned and operated the bank since 1954 and continue that legacy with a fifth generation of family members on staff. The bank's growth has been in business loans, personal loans, deposits, and locations with branches in Grinnell, Johnston, Marengo, and Polk City.
About Grinnell School of Music
The Grinnell School of Music is a vibrant community music school in Grinnell where children and adults access professional music instruction. With an emphasis on participatory, community music-making in addition to excellence in performance, the school provides music education and opportunities for recreational, competitive, and professional musicians alike, equipping students to become lifelong practitioners and performers. The Grinnell School of Music was incorporated in 2022 and took over the activities of its predecessor organization, Studio E, in 2023. Having outgrown its current space at 819 Broad Street, the Grinnell School of Music announced in the spring that it would be purchasing and renovating 720 5th Avenue, the former home of Michael's Restaurant. A $750,000 capital campaign is underway to support the purchase and renovation, operating costs, and a scholarship fund.
The Grinnell School of Music is a 501(c)(3) designated charitable organization.