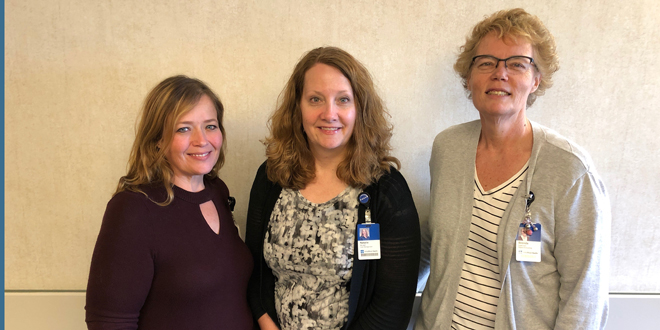 Implementing new electronic health record to better serve patients
UnityPoint Health®– Grinnell Regional Medical Center (GRMC) is in the final stages of their Epicjourney to implement a new electronic health record across their hospital and clinics. Epic will replace the current health record system Sunday, September 29, 2019.
"Epic will improve our workflows and advance the care we provide for our patients," says Natalie Cline, care coordination manager and Epic site coordinator at GRMC. Cline has been with the hospital for 22 years and is leading the implementation efforts of this important project.
Currently, more than 250 million patients have a current electronic health record in Epic. It is used in community hospitals, children's hospitals, retail clinics, independent practices, hospice and more.
"An amazing benefit is the ability to share medical information with other UnityPoint Health locations seamlessly including medical history, test results and prescriptions," says Holli Carlson, clinical informaticist and Epic credentialed trainer. "This means whether you visit a UnityPoint Health specialist in Grinnell or Des Moines they'll both be able to have the same information to advance your care."
Upon go-live, patients will have personal and family health information at their fingertips through a patient portal called MyUnityPoint. Patients will be able to access the MyUnityPoint through the GRMC website at unitypoint.org/grinnell. Patients can message their doctor or provider, complete questionnaires and be more involved in managing their health.
With the launch of Epic comes extensive training for GRMC team members. Classes started in early August with more than 300 classes taught by 25 trainers. You can click for more information on the classes taking place.
"Epic brings all of the information that patients need from the beginning of the visit to the very end in one location. For example, patients will now receive a comprehensive statement that will encompass the services that were received in the hospital and clinic setting," says Brenda Peck, revenue cycle informaticist and Epic credentialed trainer.
To facilitate this major transition, the hospital will establish a command center with trained professionals from across the UnityPoint Health System to assist during the first two weeks of go-live. In addition, there are many Epic "superusers" working throughout the hospital and clinics – assisting nurses, doctors and staff with the new electronic medical record.
"We can't wait for go-live. The staff at GRMC are going above and beyond to make this a smooth transition and I'm excited to see all the hard work pay off with ease for our patients and with improved efficiency in the day-to-day operations," says Jennifer Havens, CEO.
Cline, Carlson and Peck have focused their time to make sure GRMC is ready for go-live and staff feel confident with the new platform. The new electronic medical record will be a great addition for the community.