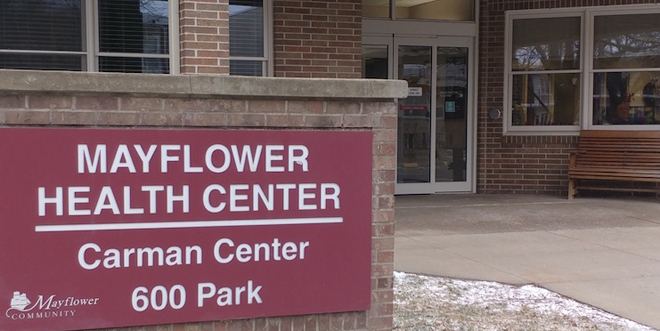 Enhancements have been made in Mayflower's Health Center, a fully licensed nursing care facility. Now featured in the South community is a low-stimulus environment, specializing in care for residents with chronic and life-limiting conditions. Included is palliative care that provides comfort to residents when their medical conditions cannot be stabilized or improved. Our staff in the health center are trained in the best practices for palliative care, memory support, and restorative nursing.
Mayflower's partners have expanded to now include locally-owned Total Rehab Orthopedic and Sports Specialist. Physical, Occupational, and Speech Therapy is provided on Mayflower premises by certified/registered specialists, most with therapy doctoral degrees. If interested in scheduling an appointment with Total Rehab, please call Angie Dillon (641-236-6151 x 214).
Currently, the lower-level Health Center therapy department is being remodeled toprovide a waiting area, an open therapy area, and two private exam/treatment rooms.
Our Assisted Living apartment homes combine the independence of living privately with the security of knowing that when needed, help is just a few steps away. Residents eat in our beautiful Assisted Living dining room with menu choices that change daily. Assistance with daily needs (dressing, ambulating, bathing, laundry, house cleaning, and other services) is available on a scheduled basis with a call button available for use with special needs. Medication management can be provided by staff, or residents may keep their medications in their own apartment. Structured activities are offered throughout the week. The support provided to residents in Assisted Living helps them conserve their energy for the things they continue to enjoy doing.