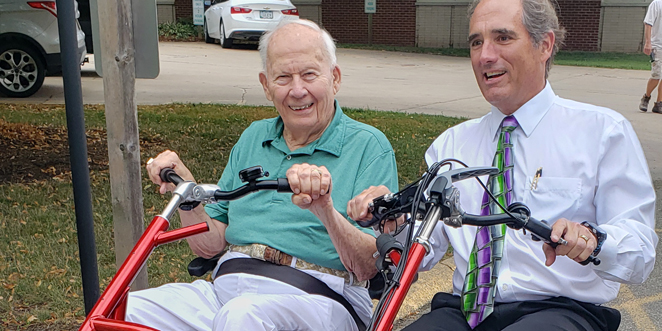 The Mayflower Community (Grinnell IA) has purchased a side-by-side tandem Van Raam "Fun2Go" three-wheeled cycle, which was delivered Wednesday, August 14th. It can be peddled by one or both of the riders and can be used to ferry less-abled residents around the greater campus, which includes the downtown Central Park and business district.
Mayflower Executive Director, Steve Langerud, says, "The joy and utility of bicycling transcends age and ability. For seniors, this simple pleasure also helps improve mobility, build social connections, and stimulate brain development to support memory and neurological function that impacts quality of life."
A recent wellness survey of Mayflower residents, conducted by Grinnell College faculty and students, revealed that the opportunity to get out of doors was a key desire, particularly for those in our health center and assisted living. A second market research study of Mayflower residents found that two services—transportation and running errands—topped their list of needs. Langerud said, "We believe that this All Ability Cycle will provide a creative, healthy, and collaborative solution to both wellness and home service needs of residents and the community."
With the Fun2Go cycle, one person steers while one or both pedal, using the freewheel switch, whereby the second rider can disengage or pedal at any speed. The battery-powered engine provides assistance for climbing inclines. The two riders can easily talk as they sit next to each other.
Local triathlete, Austin Jones, Grinnell State Bank President and President of the Mayflower Board of Trustees, was the inaugural rider. Austin observed, "It was a joy seeing the expression on the faces of my passengers while riding with them. One in particular was especially fun. He was strong and wanted to peddle and get that bike going. We rode over to see his wife. He was excited to greet her, but then kept wanting to go ride. Then, while riding with Bob Smith, we got to the corner of the Mayflower Lane. I asked if he wanted to turn around. He said, 'No. Let's ride around the block.' This will be a great addition to the campus providing transportation and joy for all the residents."
Mayflower's healthcare Activity Director, Chery Nelson, shared, "A dream come true! I'm excited about the opportunity for our residents to enjoy a bike ride. I saw their smiles, and it brings so much joy!"
Langerud added, "Most importantly, cycling is fun! Imagine a community errand and transportation service for seniors where you are picked up, delivered, and returned home by bicycle. Imagine intergenerational programs in which seniors and students are riding together for fun and transportation. Our ministry drives us to be collaborative and active leaders in supporting the health of all seniors in Grinnell and Poweshiek County.
Founded in 1950, the Mayflower Community is the only healthcare provider in Poweshiek County offering Medicare certified skilled nursing care, certified assisted living, and licensed residential care, all on one campus. More than 280 people make their homes in the Mayflower Community's healthcare, independent living apartments, patio homes, and the new Watertower Square apartments. More information is available at http://www.mayflowerhomes.com/or by calling 641-236-6151.