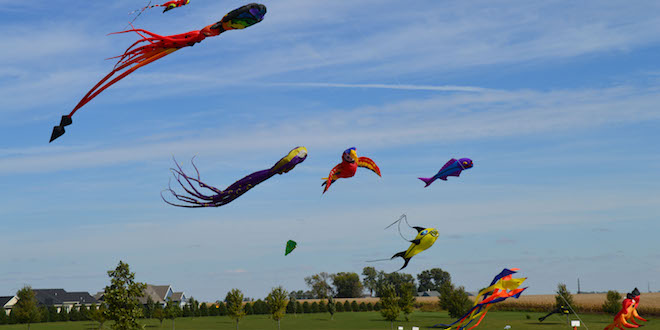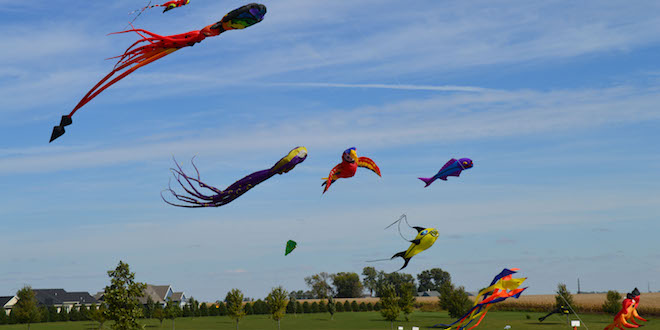 Grinnell, IA– The always colorful and enjoyable fall event, Kites over Grinnell, will be held Sat., Sept. 29, 2018 from 10 a.m. to 4 p.m. at Ahrens Park, sponsored by the Grinnell Rotary Club.
This year's event will honor three generations of Rotary leaders from the Urfer family: the late Samuel J. Urfer, who served as president from 1955-56; his late son, Jim Urfer, president, 1982-83, and this year's president, Jim's daughter, Julie Beach, who runs the family business, Grinnell Implement Store. Their names will be displayed on the ribbons to be given out to children who attend the event.
Nearly one thousand kites will be given away for free, most ahead of schedule. As in the past, kindergartners to fourth graders will build and decorate their kites during art classes under the supervision of art teacher Farren Johnson.  New this year will be the addition of the fifth and sixth graders who also will construct their kites during their art classes taught by Josh Wardenburg.
Students are asked to bring their kites to the event.  A limited number of additional kites will be provided for free on site. A "kite clinic" run by Rotarians will be available to help children with their kites.
Professional kite flyers of the American Kitefliers Association (AKA) are coming from Iowa, Illinois, Kansas, Missouri,  and Texas to delight the crowd with a flying display of their huge, unique and multi-colored kites.
Kite contests will be held for different age groups and prizes will be awarded, courtesy of local businesses. Kites will be given away every hour as door prizes.  Dave Crawford will provide music all day, a variety of games are planned by the husband and wife team Rick and Martha Mitchell, and a video drone will be operated by Sam Rockwell to take shots of the event and put on YouTube.
Rotarians will sell hamburger, hotdogs, chips, and drinks.  Rides will be provided from the parking lot to the event.  Some chairs will be provided but attendees are asked to bring lawn chairs or blankets to sit on.
Bruce Blankenfeld, past president of the Grinnell Rotary Club and overall coordinator of the event said that this is the third consecutive year that Rotary has sponsored Kites Over Grinnell, taking over from Dick and Sis Vogel.  "We've been encouraged by the enthusiasm of the community and the fun that children and their families seem to have during the event that we thought we would continue sponsoring it," he said.
Kites Over Grinnell was first introduced in 2002 by the late Rev. Dan Ogata, a retired local minister, who had a passion for flying. The Grinnell Kiwanis Club, of which Ogata was a member, sponsored the event then.
In 2006 Ogata invited the Vogels, who shared Ogata's passion for kite-flying and are AKA members, to help organize the annual event.  At its height Kites Over Grinnell drew 2000 spectators and 52 professional kite flyers from across the nation and Canada, according to Sis.  A variety of service organizations and local businesses helped support the event through donations. In 2009 Kites Over Grinnell became a three-day event.
To help defray the cost of the event, the Grinnell Rotary Club is seeking donations that can be sent to Rotary Club, P.O. Box 572, Grinnell, IA 50112.
The Grinnell Rotary Club was founded in 1938 and is one of about 35,000 member clubs of Rotary International (RI), an international service organization dedicated to bringing together business and professional leaders to provide humanitarian services, encourage high ethical standards in vocations, and advance goodwill and peace throughout the world.  Currently, RI has 1.2 million members worldwide.
For more information about Kites Over Grinnell, contact Bruce Blankenfeld at 641-236-5939.