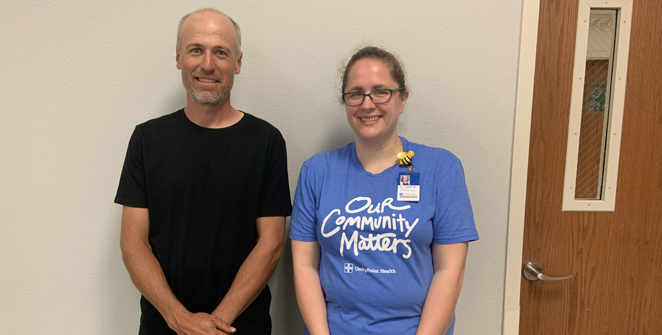 In the third session of The Mayflower Community's Wellness Month information sessions on Thursday, June 20th, two local specialists shared information about the medicinal value of food. Dr. Jennifer Paisley, M.D. and organic-farmer Andrew Dunham described the impact of different food groups on the body and mind.
Dr. Paisley has been prescribing food alternatives to medication for most of her time in internal medicine and pediatrics practice. Certified in obesity medicine, Dr. Paisley emphasized the impact of how food is raised and grown. To demonstrate, she prepared a snack bar in the Mayflower Carman Center. See photo below.
One of Dr. Paisley's main points of emphasis is the value of a fresh foods smoothie in comparison to a bottled liquid supplement.  She prepared samples of both and asked audience members to do a taste test. Not only is a blueberry extract smoothie more nutritious, but it tastes better.  The Mayflower Community is in the process of replacing commercial liquid supplement drinks with fresh-food smoothies.
Dunham is the fifth generation Dunham to operate the 160-year old Grinnell Heritage Farm, which is USDA-certified organic. He described how his wife Melissa and he treat the soil and grow their produce to maximize nutrition value. Organically grown carrots are one of their specialty products that have a succulent taste.
Entitled "Food as Medicine: The Importance of Nutrition and Food Quality for Your Health," the session presented a number of suggestions for the attendees to improve their diets. The photo below pictures Dr. Paisley and Dunham.
The last session in the Wellness Month series will be Thursday, June 27th, 2:00-3:00 in the Mayflower Carman Center. It will feature physical therapist, Jacki Hutchison, discussing "Mindfulness Yoga."