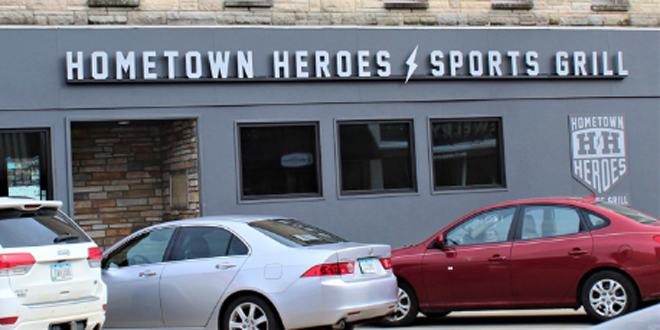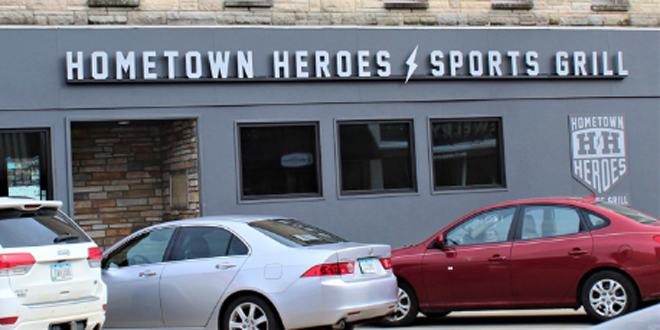 By Michael McAllister
"Getting close." That is the time estimate that Chef Paul Durr, operator of the Prairie Canary and the entrepreneur behind the transformation of the former Lonnski's, provides for the opening of Hometown Heroes Sports Grill, soon to be Grinnell's newest eating establishment at 908 Main Street.
The restaurant will present a sophisticated environment with a small-town feeling, a family-friendly space that goes an extra step in community involvement by paying tribute to the achievements of local individuals.
Chef Durr says he is "really excited to bring the concept to Grinnell."
The restauranteur wants to recognize athletes from Grinnell, Brooklyn, and Montezuma who are playing at the collegiate level. In addition, he wants to pay tribute to other people whose services we rely on—firefighters and first responders, for example—and other people who have achieved significant progress in a field such as music.
"Heroes come in all walks of life," Durr states. "I think it's really important for us as a society to hold those other people up also."
He also wants to honor veterans with a fallen-soldier wall.
Behind the move to strike a new culinary note in Grinnell lie a dislike of washing dishes and a love of playing soccer. Paul Durr's first job in a restaurant was as a dishwasher, a position he did not find to his liking. So he moved up. Eventually he trained with an executive chef and ventured out on his own.
Durr's move to Grinnell came in 1996 and resulted in JD's Restaurant on Main Street, next to what is now the Prairie Canary that he operates. Once here, his love of soccer—he had played at the University of Tulsa— led him to Grinnell High School, where he coached the sport from 2001 through 2018.
Hometown Heroes Sports Grill will offer heavy appetizers, varieties of wings, cheese curds, gourmet sandwiches, and stacked-high burgers, the kind whose height must be reduced before that first bite. Durr referenced one burger that involves smoked brisket, barbeque sauce, cheese sauce, fried onions, and jalapenos.
Vegetarians and vegans are not to be excluded. Chef Durr says good things about the Impossible Burger.
Hometown Heroes Sports Grill will accommodate approximately 90 people. A party room will be available for private events and will seat around 25. The restaurant will aim for a middle-of-the-road demographic with moderately priced fare. Twenty-one televisions are sure to keep patrons tuned to the sporting event of their choice.
Durr wants to keep the interior innovations—which will be considerable—somewhat under raps until the establishment officially opens. He wants people to be surprised. Meanwhile, some renderings are available on the Prairie Canary Facebook site.
As for atmosphere, Durr brings up the iconic line from the Cheers theme: "A place where everybody knows your name." He wants people to feel that way about Hometown Heroes. And not only your name but also your favorite drink, your favorite meal, and your favorite teams.
"We're absolutely excited to get the doors open," Durr says, adding that he is asked about an opening date every time he walks down the street. The restaurant "is going to be a great addition to downtown Grinnell."
Families, sports fans, community boosters, foodies, pub mavens, and anyone who appreciates a warm and welcoming space—these people and more should feel at home when Hometown Heroes Sports Grill opens its doors.