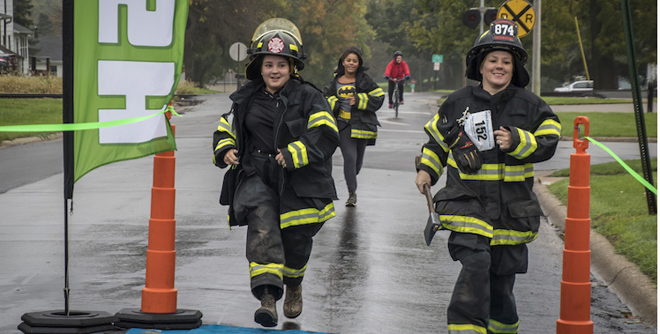 GRMC Wellness Run
The colder temperatures and drizzling rain didn't stop runners from participating in UnityPoint Health – Grinnell Regional Medical Center Super Hero 5K on Sunday, Oct. 7. 56 runners began at the GRMC Healing Garden and braved the wet conditions to head south through the Hazelwood Cemetery and loop around Arbor Lake.
For the 5K, Josh Wardenburg, Grinnell, came in first overall with a time of 18:47. Anthony Farmer, Grinnell, came in second with at time of 23:10. After the 5K finished up, children and families completed a .5K fun walk and run through the GRMC campus.
 Winners were announced in six age brackets, male and female.
Male, 19 and under: Luke Farrell, 24:38 time
Female, 19 and under: Ava Seney, 36:58 time
Female, 20 to 29: Samantha Smith, 34:43 time
Male, 20 to 29: Josh Wardenburg, 18:47 time
Female, 30 to 39: Anna Ecklund, 23:17 time
Male, 30 to 39: Kyle Swartz, 24:58 time
Female, 40 to 49: Julie Foster, 34:26 time
Male, 40 to 49: Anthony Farmer, 23:10 time
Female, 50 to 59: Sherry Baker, 44:28 time
Male, 50 to 59: Dennis Lowry, 29:40 time
Female, 60 and over Tilly Woodward, 30:05 time
Male, 60 and over: Allen Ricks, 37:08 time