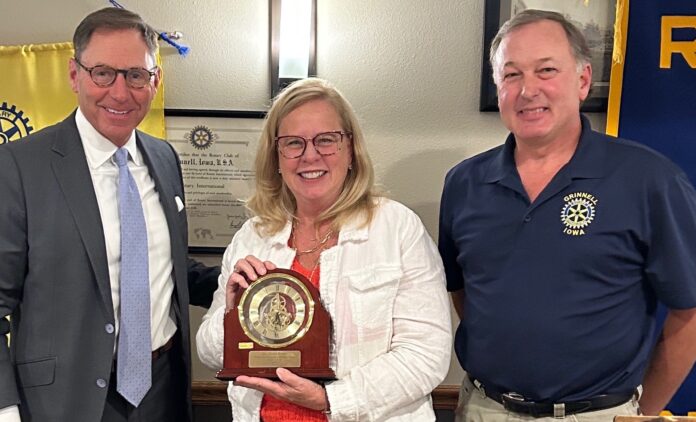 GRINNELL, IA (July 16, 2023) – Outgoing Rotary Club President Janet Stutz was recognized for her year of service with a Mantel Clock with the Rotary logo presented by treasurer Todd Honold during the Club's first official meeting of a new Rotary year held Tues., July 11th.
Stutz guided the Club coming out of Covid, held strategic planning sessions at the beginning of her tenure, revived the Club's committee structure, and increased Club membership. She successfully oversaw the return of the chicken barbecue to its June schedule and contributed to a well-attended Kites over Grinnell last Sept. She paved the way for members to volunteer at schools and other community events.
Always willing to share her expertise and talent, Stutz has given talks about education and her hobbies – composing music and playing the guitar. An accomplished photographer, she took photos of Club events.
The Club appreciates her membership and service and wished her well as she and her husband Kevin leave Grinnell to be closer to family.
Stutz passed the Rotary President's gavel to incoming President Scott Beach. Scott completes a line of Presidents from the Beach/Urfer family that includes his wife Julie, her father Jim Urfer and her grandfather Sam Urfer. Grinnell Rotary appreciates Scott and the Urfer family for their service to Grinnell Rotary and the Grinnell community.
After the change of leadership, the Club began planning for Kites Over Grinnell coming Sept. 30th. The hope is that this free family event will be bigger and better than last year.
Grinnell Rotary meets each Tuesday evening at 6:00 PM at West Side Family Restaurant. All are welcome.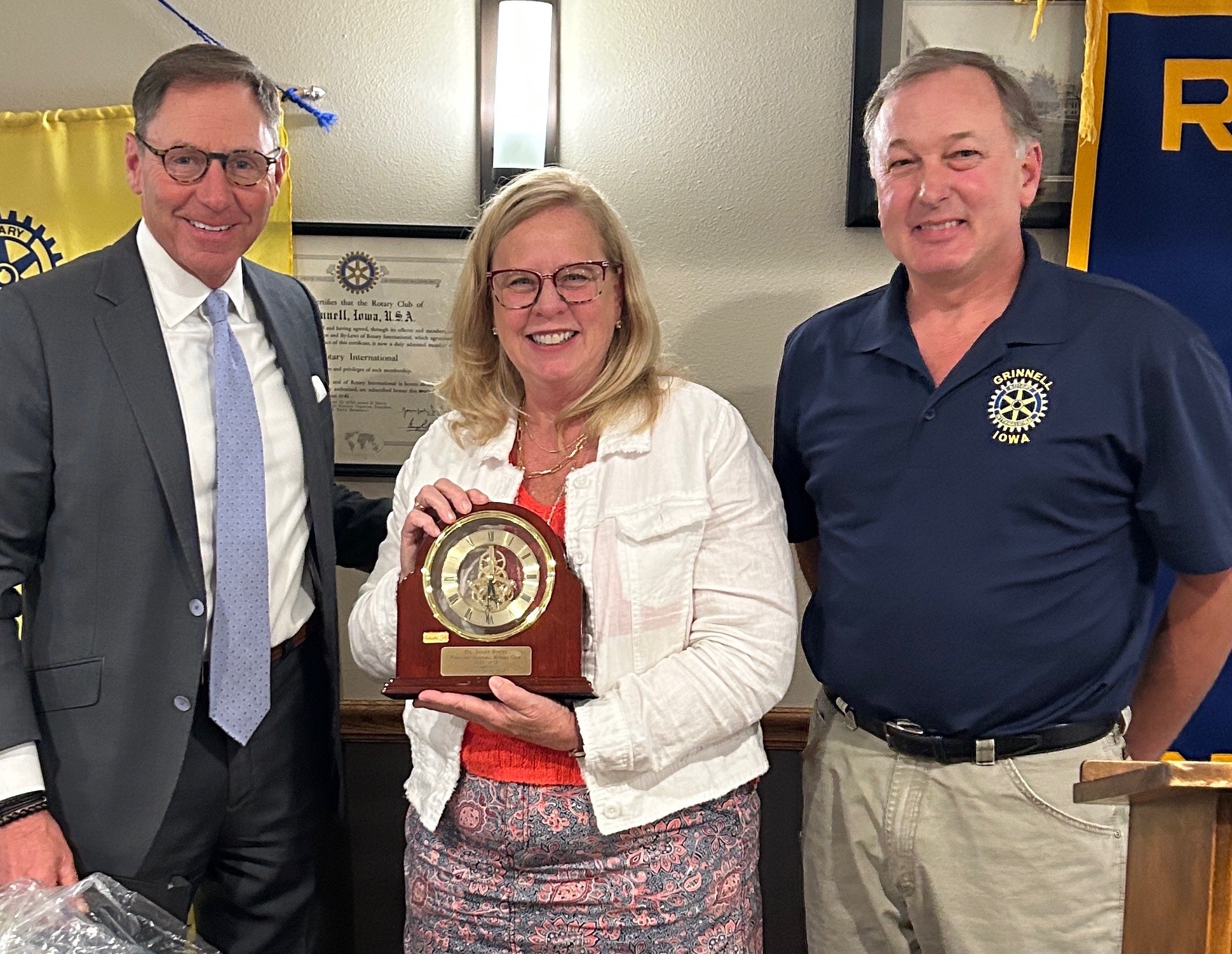 Janet Stutz (center), outgoing Rotary Club president, displays the Mantel Clock with a Rotary Logo presented to her by Todd Honold (left), treasurer, in recognition of her service. Also in the picture is Scott Beach (right), incoming president.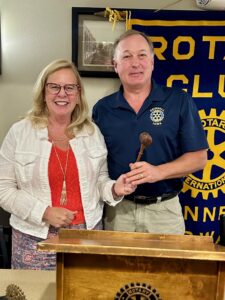 Stutz passes on the presidential gavel to Scott Beach, incoming Rotary Club president.