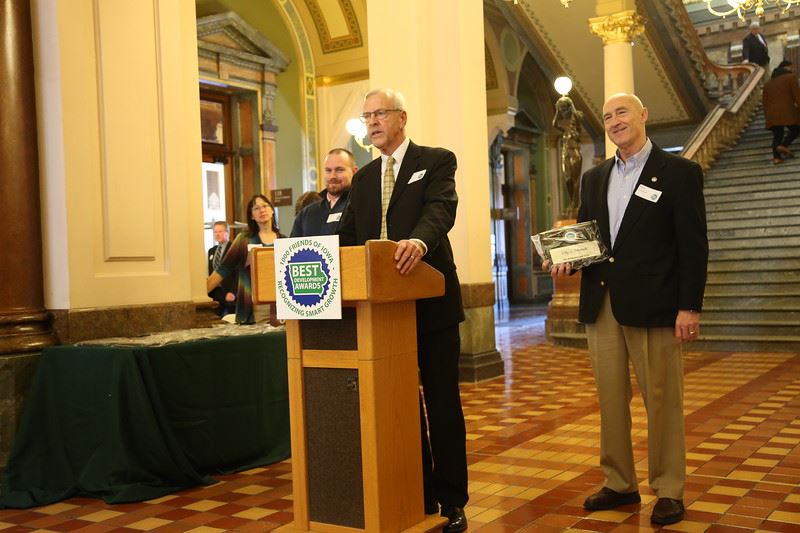 1000 Friends of Iowa presented awards to the winners of the 2019 Best Development Awards at the Iowa State Capitol Building Rotunda on January 21, 2020. The awards program showcased projects that recognized connections between building and project development to quality of life. With a mission focused on responsible land use, 1000 Friends of Iowa promotes smart growth planning principles that help achieve socially, economically, and environmentally sustainable communities. Projects recognized were located in the following communities: Altoona, Belle Plaine, Coralville, Davenport, Dyersville, Fort Madison, Grinnell, Iowa City, Johnson County, Knoxville, Marshalltown, Readlyn, and Stanton.
Grinnell received the award for Renovated Civic: Grinnell Central Park – Gifted to the City in the 1800's, generations of citizens experienced Central Park. By modernizing and updating the park, the adjacent downtown has also seen new energy. With a healthy mix of funding sources, the history and culture of Grinnell are honored. Simultaneously, the site's greenspace, stormwater management, and safety are also enhancing the park to be an asset that its citizens love to use.
1000 Friends of Iowa, founded in 1998, is a statewide nonprofit organization focused on land use education. Its mission is to unite Iowans in efforts to protect farmland and natural areas, revitalize neighborhoods, towns and cities, and improve the quality of life for future generations.
The Best Development Awards Program, founded in 2001, recognizes the organization's mission in a tangible manner through awards in twelve categories.
Additional details about each winning project and 1000 Friends of Iowa's smart grown priorities can be found at www.1000FriendsofIowa.org.