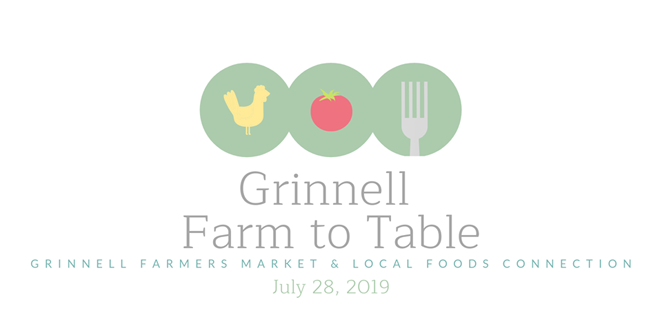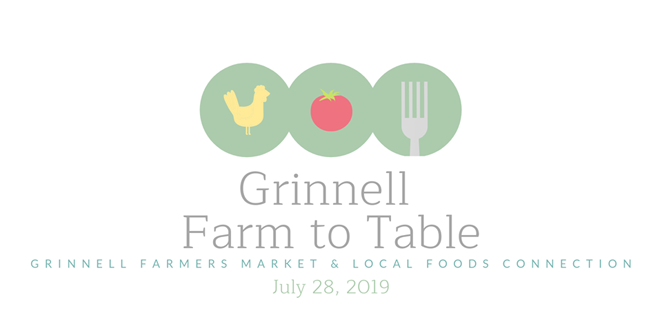 GRINNELL – The Grinnell Farmers Market and Local Foods Connection have partnered to bring a farm to table inspired street dinner to Grinnell as a joint fundraiser for both organizations.
Grinnell Farm to Table dinner will take place Sunday, July 28th with a social hour and music beginning at 5pm with dinner served at 6pm. The dinner will take place in the HSSC Outdoor Atrium on Grinnell College campus. Rain location will be in the Harris Center on Grinnell College campus.
This five-course meal will be prepared by local culinary crafters Colleen Klainert (Solera), Jamie Leonard, Scott Turley (Grinnell College), and Megan Pryke (Lemon Tree Tea Room & Restaurant). They will be using fresh, locally grown ingredients sourced directly from Grinnell Farmers Market vendors and Local Foods Connection farmers. Vendors and Farmers will be on hand to visit with guests about their products, farming practices, and answer questions about local foods.
Tickets for the dinner are $50 per person with the choice of a pork, chicken, or vegetarian entrée. For more information on the menu and to purchase tickets visit www.grinnellfarmtotable.com or stop by the Grinnell Area Chamber of Commerce office at 833 4th Avenue. Ticket prices are set to increase after July 14th.
Grinnell Farm to Table dinner is sponsored by Grinnell College.
The Grinnell Farmers Market, managed by the Grinnell Area Chamber of Commerce is a 100% producer grown or made market, meaning all items for sale must be entirely grown or made by the vendor or immediate family members. All items must be made or grown in Iowa.
Local Foods Connection works with families to provide fresh, locally grown and produced food to low income families and agencies in the Grinnell community. They also provide clients with educational information about farming, nutrition, and healthy meal preparation so that they can make the best use of the produce they receive.