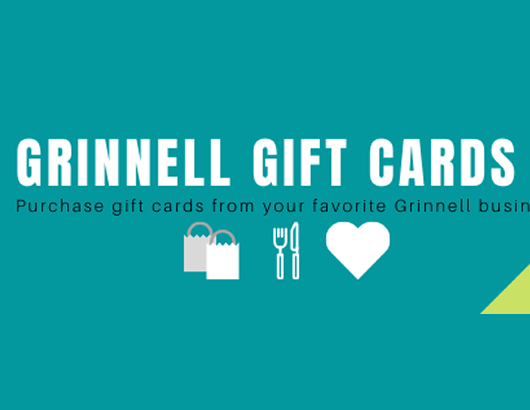 GRINNELL, IA – The Grinnell Area Chamber of Commerce is pleased to announce the launch of Grinnell Gift Cards, a program designed to help Grinnell area businesses in response to COVID-19. The chamber of commerce works to advance the economic development, vitality and growth of the community. In a time when it is more difficult, or simply not possible in some cases, to visit your favorite Grinnell restaurants, retailers, salons, and more, the Chamber has developed a way to continue to support member and non-member businesses until distancing protocols are lifted.
The Grinnell Gift Card program allows customers to purchase gift cards through the Chamber's website for specific Grinnell businesses in the amounts of $10, $25, $50, and $100. These gift cards will be mailed to the purchaser (or a designated recipient) within 3-5 business days and will be redeemable at any point with the selected business. Grinnell Bucks are also available for purchase through this platform, and will be distributed the same way.
"People are looking for ways to help support our local businesses in this time of uncertainty, and we believe this is a great opportunity to do that," says Rachael Kinnick, President & CEO of the Chamber. "Several people have also inquired to have Grinnell Bucks purchases available online so they could show support to local healthcare professionals, or simply use as an opportunity to provide a 'pick-me-up' to someone they have not been able to see in person due to the virus, and we wanted to make sure that was an opportunity with this program as well." Grinnell Bucks can be used as cash and may be redeemed at any Grinnell business, chamber member or not, during the pandemic.
As of now, more than 30 Grinnell businesses are participating in this program, and the number is anticipated to grow as time progresses.
To purchase gift cards from participating businesses, or to find more information visit:https://www.grinnellchamber.org/en/residents__relocation/grinnell_gift_cards​ .. Community members near and far may purchase gift cards via the site to support local Grinnell businesses. For business participation, the program is open to any current Grinnell Area Chamber of Commerce member (effective 3/18/20) or is located in the Grinnell 50112 zip code. If a business is interested in participating, please contact the Chamber at 641-236-6555 or kendra@getintogrinnell.com.
About the Grinnell Chamber
The Grinnell Area Chamber of Commerce is an independent, 501©6 non-profit organization focused on the Grinnell community. The mission of the Grinnell Area Chamber of Commerce is to advance the economic development, vitality, and growth of the community. For more information on how to join the Chamber or get involved, please visit grinnellchamber.org or call 641-236-6555.