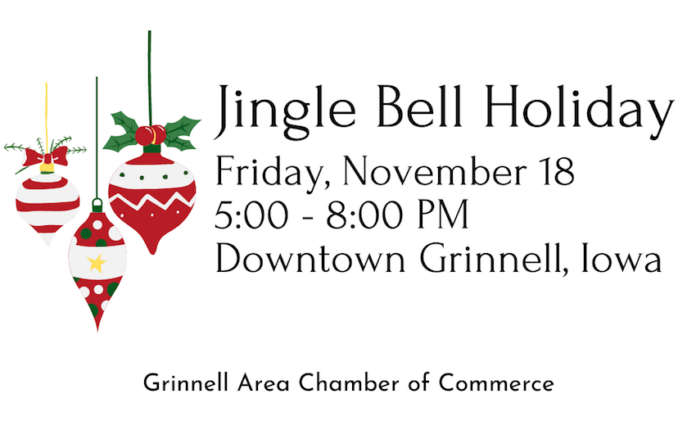 GRINNELL– Grinnell Area Chamber of Commerce's annual holiday shopping kick-off event, Jingle Bell Holiday, will be held downtown on Friday, November 18, from 5 to 8 p.m. Guests are invited to enjoy festive activities and promotions at a variety of businesses in the downtown district.
Shoppers will receive double punches on Chamber Holiday Punch Cards on all purchases made throughout the evening and on Saturday, November 19th. Punch cards can be picked up at participating retailers and, once completed, returned to the Grinnell Chamber office for a chance to win Grinnell Chamber Bucks. Jingle Bell Holiday is organized by the Grinnell Area Chamber of Commerce and sponsored by Grinnell College, Total Choice Shipping & Printing, Community 1st Credit Union, Grinnell State Bank, Windsor Manor, Blue n Gold Merchant Services, Grinnell Firestone, Hannah Warnell-Iowa Realty, and DJ Cox Entertainment with aerial coverage provided by Aircut Studio.
Beginning at 5 p.m., the public is invited to head to the Central Park stage for the opening ceremony, featuring a performance by dancers from Michelle's Dance Academy performing their holiday dance routine. The Chamber is excited to partner with member business Aircute Studio to broadcast the kick-off through the Chamber's Facebook page. Following the performance, the Central Park tree and park lighting will take place. This year's decorating team is again led by Jennifer & Kevin McAlexander and volunteer leaders include Michelle Butler, Kerri & Brian Olson, Esther Ware, Gailanne & Tim Dill, Bill Gruman, Jim White, with assistance from the Bayer Crop Science team and many others. The team has brought back many of last year's decorations and added new highlights for the park. Decorations will remain in the park through December 31st, 2022.
Beginning at 5:30 p.m., Santa will be visiting with children at Grinnell State Bank and photos (available for purchase) will be taken by Cory Hall Photography. Carriage rides will be available downtown free of charge, with pick up and drop off at the northwest corner of Central Park starting at 5:30 p.m. Grinnell College will be offering a shuttle and carriage rides for college students that will pick-up and drop-off at the corner of 5th and Broad Street. This shuttle and carriage on-campus pick-up/drop-off location will be in front of the JRC.
The Winter Farmers Market will be back again this year, with a variety of food and craft vendors setting up in the ballroom of Hotel Grinnell (925 Park Street) from 5 to 8 p.m. on Friday and again 10 a.m. to Noon on Saturday, November 19th. The Winter Farmers Market is a Grinnell Farmers Market event sponsored by the Grinnell Area Chamber of Commerce, Grinnell College and Hotel Grinnell.
More than 30 businesses and organizations will be hosting kid activities, crafts, refreshments, open houses and other activities during the evening. Businesses and organizations (*denotes
Grinnell Chamber of Commerce Member) participating in the evening festivities include the following (all activities are at their place of business unless otherwise noted):
●  Anna Kayte's Boutique*: will have a free gift with purchase, holiday snacks, a drawing for a giveaway and awards cash with purchase.
●  Bates Flowers by Design*: will be offering 30% off regular priced holiday gifts and decor (excludes plants and floral arrangements), shoppers can be entered to win a gift basket with every $25 spent that night.
●  Beckman Gallery*: will be open extended hours with complimentary gifts wil supplies last.
●  Big Hearts 4 Tiny Hand: will host a bake sale and hot cocoa bar at Jenny Bos Farm BureauFinancial Services.
●  Brown's Shoe Fit Company* will be open and have a local bluegrass band performing, cookies and more.
●  Dari Barn on the Mooove*: will be set up at 4th Ave and Broad Street with hot chocolate and mini donuts.
●  Giggles & Bows*: will have treats for guests, sales include 30% off dresses, button-ups shirts, pjs, hats will be 50% off, Under Armor and collegiate ware 25% off.
●  Grin City Bakery*: will be have ring donuts and hot chocolate.
●  Grinnell Area Arts Council*: will be hosting the Local Artist Market along with selling bows for the annual Empty Bowls Fundraiser for MICA. Be sure to stop by and purchase a bowl made by a local artist and support a great cause!
●  Grinnell Craft Brewhouse*: will be open.
●  Grinnell Model Rail Club: will be open and seeking new members to join! Stop by tolearn more.
●  Grinnell Winter Farmers Market*: will be held Nov 18 from 5-8 p.m. and Nov 19 from 10 a.m.-Noon in the Hotel Grinnell ballroom.o Vendors:

▪  B's Mittens: Homemade wool sweater mittens, homemade lavender sachets.
▪  Beez Blooming Garden & Beez Kettle Corn: Fresh popped kettle corn, wreaths, giftcards (Friday market only).
▪  Bittersweet Designs: polymer clay earrings
▪  Bunny Traxx Ceramics: Painted and glazed ceramic items, scrubbies andkitchen items.
▪  Circle W Acres: Breads, pies, kolaches, cookies and more.
▪  Cupcakin' Around: Hot coco bombs, cookies, pies (Friday market only).
▪  Dolezal Honey Bees: Honey, beeswax products and soaps (Friday market only).
▪  Grinnell Ceramics Studio: Handmade ceramic wares including Empty Bowls, jars, mugs, jewelry and more.
▪  Hala's Crafts: Crocheted and sewn items.
▪  Kate's Kitchen Creations: Scones, breads, cookies, english muffins and more (Friday market only).
▪  Lim's Cookies: Cookies, candies, woodwork and crocheted items (Friday market only).
▪  Live Life & Tie Dye: tie dyed products.
▪  Mike Nippe: jewelry, gemstones, lapidary (Saturday only)
▪  Olson Garden Market: Dried spices peppers, rib rub, everything bagel seasoning, rustic home decor.
▪  Prairie Produce: produce and freeze dried items.
▪  Rose's Art Stand: Hand painted art projects (Friday market only).
▪  Scenery Changes: Earrings, bookmarks, knitted products, book page art, self-published books (fantasy, sci-fi, poetry, speculative fiction).
▪  Silver Maple Lane: syrups
▪  Slane's Soaps: Glycerin soaps (Friday market only).
▪  Tangled Roots Farm: baked goods, jams & jellies, wreaths, ornaments.
▪  WeBe Soap: soaps, soap dishes, exfoliating bags.
●  Grinnell State Bank*: Stop in to see Santa from 5:30 – 8 p.m. Cory Hall Photography will be on-site to take photos, available for purchase.
●  Hair of the Dog*: will be open extended hours with kittens in the window.
●  Hope Family Counseling*: will have an open house with letters to Santa and ornamentmaking.
●  Iowa Kitchen at Relish*: will host the soup portion of the Ceramics Empty Bowls Fundraiser. Bowls will be available for purchase for $20, fill them with soup and bread for an additional $5. Bowl sale proceeds benefit MICA Grinnell, soup sales benefit the Iowa Kitchen.
●  Jensen Optometrists*: will have a holiday themed photo booth, hot chocolate bar & cookies!
●  Loralei's Giftshoppe*: will have Craig, jennifer and Cassie performing along with refreshments.
●  Othala*: will be handing out gift bags containing quartz crystals and a discount scratch off (while supplies last) and have gluten free snacks. Grinnell College students get 10% off with a student ID.
●  Pioneer Bookshop*: will have a kids craft activity, hot chocolate and cookies, and wish lists for kids to make. Bring wish lists back to get a discount on your purchase!
●  Poweshiek Trading Post:
●  Saints Rest Coffee House: will be open extended hours.
●  Stepping Stones Christian Bookstore*: will host the Central iowa Christian School choir and will have door prizes, free gift with purchase (while supplies last) for shoppers. Spend $25 and get a FREE $5 gift certificate, spend $50 and get a $10 gift certificate.
●  St. Mary Catholic Church*: will have live caroling on the steps of the church, the public is encouraged to join! The Knights of Columbus will also host their Delectable Soup Supper fundraiser including all you can eat chili or corn chowder. Desserts sold separately. Empty Bowls handmade ceramic bowls will also be available for purchase to support their MICA fundraiser! Tickets for Soup Supper at $10 for adults, $5 for kids, $2 discount if purchasing an Empty Bowl.
●  Stew Makerspace*: will be offering tours and have button making station to make holiday themed buttons.
●  Studio 802: will be open extended hours.
●  Suzi's Boutique*: will be having wine samples and treats
●  Two Sisters Tea & Apothecary: will have a hot cocoa bar and tea sampling, a wreath silent auction with proceeds benefiting Mason's Light House.
●  United Church or Christ*: will have the Children's Choir performing following the lighting of Central Park and a kids craft activity in the basement.
●  Vonda's Flowers & Gifts: will be open extended hours.
●  Witte's Home Decorating*: Refreshments and door prizes.If your business is interested in participation, email Kendra@getintogrinnell.com with your details.The Grinnell Area Chamber of Commerce is an independent, 501©6 non-profit organization focused on the Grinnell community. The mission of the Grinnell Area Chamber of Commerce is to advance the economic development, vitality, and growth of the community. For more information on how to join the Chamber or get involved, please visit grinnellchamber.org or call 641-236-6555.