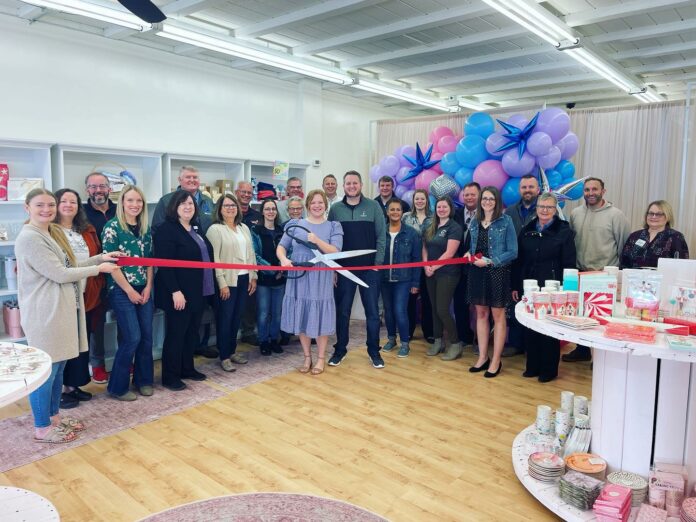 Ambassadors officially welcomed new business
Lily Lou Company
to the Chamber. Owners Mollie & Ryan O'Dell opened their business just a few weeks before Christmas and it has been full steam ahead since then.
What started with balloon arches and decorations for their family and friends game nights progressed to a full-fledged event decor, planning, and retail gift shop. They currently offer balloon decor, shimmer and tinsel walls or backdrops, pipe and drape rentals, sleepover party set ups and more. Coming in June, Luxury Picnics and Outdoor Movie Night rentals will also be available! They also hope to be offering helium in the coming weeks. Balloon decorations should last 4-8 weeks if they are temperature controlled and kept away from sunlight. Mollie asks for a minimum of 2 weeks notice when possible. She's currently books out all of May and much of June for events so if you have something coming up, don't delay!
The retail shop features gift and party items that you can't find in town and some of the latest trending items. She also specialises in having decor and gifts for major holidays throughout the year.
If you haven't visited the shop at 827 4th Avenue, make sure to stop by. You can also find more information on her Facebook page and her website will be launching soon!
Pictured L-R: Marissa Pronschinske – Grinnell Chamber, Monica St. Angelo –
Grinnell Area Arts Council
, Kent Reed –
American Brawn Charity
, Rachel Arseneault –
Timm Agency, LLC-American Family Insurance
, Donna Fischer –
UnityPoint Health – Grinnell Regional Medical Center
Foundation, Bill O'Dell –
JELD-WEN Windows & Doors
, Lisa Cirks –
Cirks Financial Services
, Keith Jay –
Advantage Seamless Gutters Iowa
, Jess Dawson –
REMAX Partners Realty- Grinnell
, Fran Conn, Andy Schwandt – OnMedia, Mollie O'Dell, Shane Hart –
Grinnell College Golf Course
, Ryan O'Dell, Trent Arment –
MCG – Mahaska Communication Group
, Kathy O'Dell, Ashley Symbol –
First State Bank
Grinnell, Bri Gaunt –
Community 1st Credit Union
, Jeff Finch –
Wes Finch Auto Plaza
, Rachael Kinnick – Grinnell Chamber, Charlie Isaacs –
Theisen's
, Donnette Ellis –
Grinnell College Community Connections
, Matt Moyer – Bayer Crop Science, Christy Kaisand –
The Mayflower Community