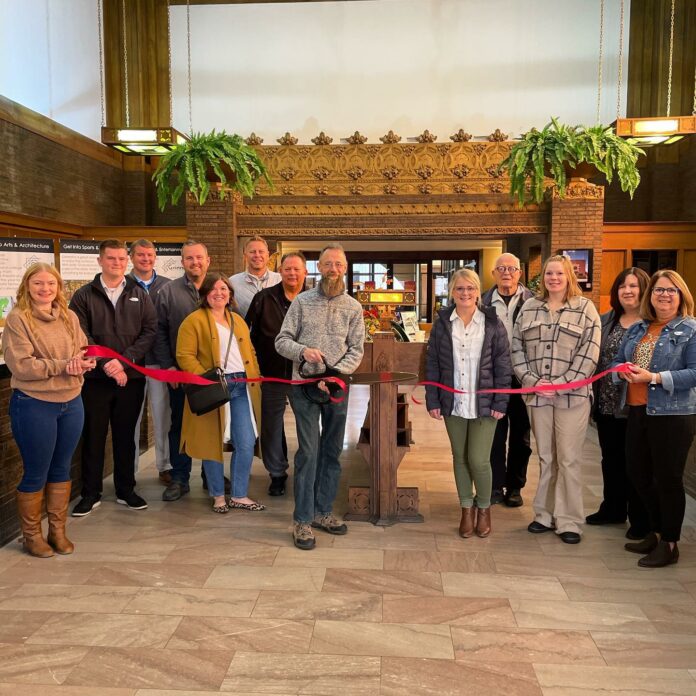 GRINNELL, IA – The Grinnell Area Chamber of Commerce and its Chamber Ambassadors group welcomed three new members and celebrated two business expansions in November and December before wrapping up the end of the year.
In early November, Ambassadors visited Prairie Lakes Church to check out their new location and celebrate 10 years in Grinnell! Pastor Phil Culhman gave a tour and talked about their space including an update of the sanctuary, the new lobby area and the remodeled rooms for the 0-4 year olds and K-5th graders.
In addition to their 9 & 10:30 AM Sunday services, kids programming, and Wednesday night Student Ministry, they also host a number of community programs. Moms Meet is open to all area moms where they discuss parenting topics over a hot breakfast (childcare provided!) and their Grief Share program meets weekly for 12 weeks to help those navigating loss.
Giving back to the community is an important cornerstone of PLC and their members had two initiatives planned for the holiday season. Setting The Table is a fundraiser with MICA. Members fill a bag with Thanksgiving meal ingredients and a $25 donation to go to MICA. In 2021, they donated 70 bags! Their Christmas Store program was also on the calendar. The congregation donated new, unwrapped gifts. PLC worked with the school district and MICA to identify families in need. Parents were invited to shop the donated items at a 80%+ discount to purchase gifts for the holiday season. Parents received breakfast and there was a gift wrapping station available. Proceeds from the sale go back into local organizations. In 2021, they had 35 families participate.
The following week, Ambassadors welcomed new member Blue n Gold Merchant Services to the chamber. Owner Doug Schafer talked about his return to Iowa and his venture into entrepreneurship as a result of his passion for local business. Schafer offers a variety of services for businesses looking to process credit cards, mainstain point-of-sale systems, or schedule clients for services. His team partners with all the major service providers but can provide a personal, customized experience for business owners who are looking for an alternative to their current service.
They offer integration with POS systems, Quickbooks and others and can scale their services to fit businesses of all shapes and sizes. If you're interested in learning more, Doug would love to meet you in person and talk about your goals. You can email him at doug@bluengoldmerchantservices.com or call 254-290-4366.
Ambassadors wrapped up November by welcoming new member and new business, Grinnell Community Greetings to the chamber! Jennifer Stallman (owner of Medicap Pharmacy in Grinnell) was looking for a way to get out of the house and meet new people. She's passionate about small business, so when she heard about the opportunity to become Grinnell's greater for Community Greetings, she jumped right in.
Community Greetings meets with new residents who have moved to the area in the last 6-9 months to talk about the different things Grinnell has to offer. From restaurants to doctors, retail shops to services, Jennifer shares information about over 30 businesses and answers questions to help new Grinnellians get acquainted with the area. Businesses are able to be a sponsor with a monthly fee and buy donating items and coupons for Jennifer to share with residents.
Jennifer is always looking for new residents, if you or someone you know are new to the community or if your business is interested in being a sponsor, call Jennifer at 641-990-7731 or email grinnellcommunitygreetings@gmail.com to schedule a visit! Visits last approximately 30-45 minutes.
To kick off December, Ambassadors skipped their regular Tuesday visit to stop by UnityPoint Health – Grinnell Regional Medical Center on a Friday afternoon to see their new admitting area and OBGYN clinic. CEO Jennifer Havens gave a tour and talked through some of the updates. The new admitting area was relocated to allow for an upcoming expansion to the laboratory and now features three private rooms where patients can meet with Patient Access Associate to get checked in.
The new OBGYN Clinic is on the third floor of the Ahrens Medical Arts building. Havens explained the new location enabled them to expand to five exam rooms, one procedure room and one consult room and allowed for the addition of two new team members, Josie Rutherford, CNM & Abby Flannagan, DO. UPH – Grinnell is one of 56 hospitals still providing maternal health services out of 199 hospitals in Iowa. They service not only Grinnell residents, but also Tama, Marshall, Iowa and the greater Poweshiek county area as well.
These upgrades were funded in part by a USDA Emergency Rural Health Care Grant Program. UPH Grinnell was awarded a total of $1.4 million to go towards both the admitting relocation and the OBGYN clinic, and the upcoming remodel of the Emergency Department and Radiology waiting room and the expansion and renovation of the laboratory. Laboratory updates are also being funded in part by ARPA dollars from Poweshiek County.
If you're interested in learning more about the critical services UnityPoint Health – Grinnell provides to the greater Poweshiek County area, visit their website at unitypoint.org/grinnell
The following week, Ambassadors welcomed the Grinnell League of Women Voters to the Chamber. Co-President Terese Grant spoke about the League's history in Iowa (over 100 years) and in Grinnell (nearly 100 years!) along with their mission. Grinnell's LWV works to register voters, provide educational forums, and advocate for issues that affect voting access and more. Some of the main programming they provide includes candidate forums in the fall, Legislative Coffee updates with our elected state senator & representative during session, and education forums on issues that are being discussed at the state house. They're always looking for new members, if you're interested in learning more or joining, reach out to a league member or visit their facebook page (facebook.com/grinnellLWV) to learn more!
Ambassadors wrapped up the year with a lovely visit at the Carriage House Bed & Breakfast. Owner and Ambassador Dorothy Spriggs welcomed the group with snacks and hot cider and shared a bit about the business before the group shared holiday plans and visited.
Chamber Ambassadors are sponsored by Grinnell College and meet weekly on Tuesdays at 9:30AM. If your business is interested in joining the Chamber or having the Ambassadors visit, please call 641-236-6555 or email Kendra at kendra@getintogrinnell.com for more information.
The Grinnell Area Chamber of Commerce is an independent, 501©6 non-profit organization focused on the Grinnell community. The mission of the Grinnell Area Chamber of Commerce is to advance the economic development, vitality, and growth of the community. For more information on how to join the Chamber or get involved, please visit grinnellchamber.org or call 641-236-6555.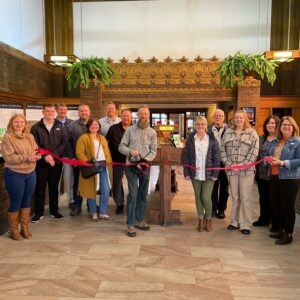 Blue n Gold Merchant Services: Pictured L-R: Marissa Pronschinske – Grinnell Chamber, David Miller – Hy-Vee, Trent Arment – MCG – Mahaska Communication Group, Charlie Isaacs – Theisen's, Erin Bustin – Studio E Grinnell, Shane Hart – Grinnell College Golf Course, Jeff Finch – Wes Finch Auto Plaza, Doug Schafer, Hannah Warnell, Iowa Realty, Jack Mathews – Our Grinnell, Ashley Symbol – Lincoln Savings Bank – Grinnell, Donna Fisher – UnityPoint Health – Grinnell Regional Medical Center Foundation, Lisa Cirks – Cirks Financial Services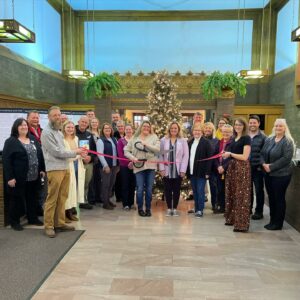 Community Greetings Grinnell: Pictured L-R: Donna Fischer – UnityPoint Health – Grinnell Regional Medical Center Foundation, Jeff Finch – Wes Finch Auto Plaza, Doug Schafer – Blue n Gold Merchant Services, Mike Olson – Lincoln Savings Bank, Marissa Pronschinske – Grinnell Chamber, Madilyn Smith – B3 Technology, Keith Jay – Advantage Seamless Gutters Iowa, David Miller – Hy-Vee Ashley Symbol – Lincoln Savings Bank, Lisa Cirks – Cirks Financial Services, Charlie Issacs – Theisen's, Donnette Ellis – Grinnell College Community Connections, Briana Gaunt – Community 1st Credit Union, Jennifer Stallman, Bobbi Jo Wolf – Community Greetings, Dorothy Spriggs – Carriage House Bed & Breakfast, Cassie Wherry – Pioneer Bookshop, Grinnell College, Trent Arment – MCG – Mahaska Communication Group, Lindsey Altenhofen – Grinnell United Church of Christ, Fran Conn, Rachael Kinnick – Grinnell Chamber, Fern Kidder – JELD-WEN Windows & Doors, Sharon Miller – JELD-WEN Windows & Doors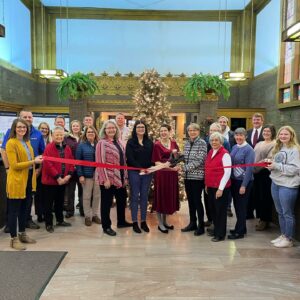 Grinnell League of Women Voters: Pictured L-R: Rachael Kinnick – Grinnell Chamber, Charlie Isaacs – Theisen's Grinnell, Whitney Bair Crawford, Agent with New York Life, Fran Conn, Jeff Finch – Wes Finch Auto Plaza, Ashely Symbol – Lincoln Savings Bank, David Miller – Hy-Vee, Lisa Cirks – Cirks Financial Services, Carolyn Jacobson – League Member, Shane Hart – Grinnell College Golf Course, Jenny Tapper – League Member, Ivy Schuster – League Co-President, Terese Grant – League Co-President, Effie Hall – League Member, Nancy E. Brown – League Member, Matt Moyer – Bayer Crop Science, Marta Miller – League Member, Trent Arment – MCG – Mahaska Communication Group, Erin Bustin – Studio E Grinnell, Marissa Pronschinske – Grinnell Chamber