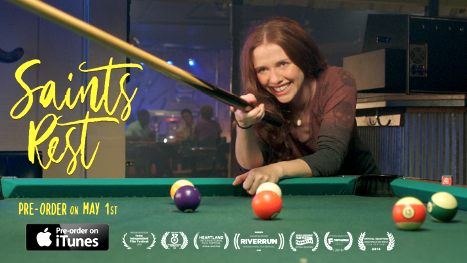 By Michael McAllister
Last month, Noga Ashkenazi, director and co-writer of Saints Rest, a film featuring Grinnell, announced that the film would be digitally released in May. Effective today, May 1, the film may be preordered on iTunes, with a release date of May 18. Also on May 18, Amazon and Google Play will offer the film.
Ashkenazi and co-writer Tyson Stock staged the Iowa premier of Saints Restin Grinnell in June 2018 at Summerfest, in the Harris Center on the Grinnell College campus. A second showing followed at the Strand Theater downtown, and Ashkenazi and Stock brought the film back to Grinnell in September.
Saints Restis the story of two sisters, Joni and Allie, estranged since their mother's death. It explores themes with which every person can identify: whether to leave or stay put, whether to strive or accept, whether to yearn or appreciate—all set against the backdrop of Grinnell.
Inspiration for the film came from Noga Ashkenazi's time in Grinnell as a college student and as a frequent patron of Saints Rest.
With its digital release, the movie will be available for purchase and streaming, and to help mark the occasion Ashkenazi graciously answered some questions that Our Grinnellsent her way.
Q: You've been living with Saints Rest for several years now—first as a concept, then as a work in progress, and finally as a finished film shown at festivals. Do you ever get tired of answering question about the film?
A: Haha, no, not really. I find that I repeat my answers quite frequently, but I enjoy talking to people about the film and hearing their questions/comments.
Q: Before creating Saints Rest, you made a documentary, The Grey Area, about inmates in a maximum-security prison for women in Mitchellville, Iowa. The topics and genres seem at odds with one another. What drew you to them?
A: The genres are indeed very different, but at the core, both films are about women – their experiences, disappointments, ambitions, and fears. As a feminist, I was drawn to telling their stories on screen, as I believe we need more female-driven narratives.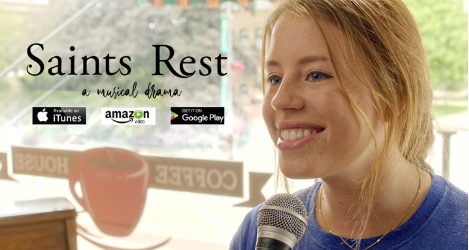 Q: One of the most captivating elements of Saints Rest is its music, which is credited to Naama Or and Eliya Scemama. What can you tell us about these composers?
A: Naama and Eliya are two very talented Israeli female composers who I met several years ago at a concert in Tel Aviv. I heard their music and immediately knew that they would be perfect for Saints Rest. We began a year-long collaboration to create the soundtrack for the film while Tyson Stock and I wrote the screenplay. It was a dynamic back-and-forth process, in which the music they wrote inspired scenes for the script, and the script inspired their music. Once the soundtrack was ready to go, we hired Brian Cavanagh-Strong (fellow Grinnell College alum) who became our music director, and created the beautiful arrangements for the songs along with additional music. We are excited to release the soundtrack on May 1st! It will be available for purchase and download directly from our website at: www.saintsrestmovie.com
Q: You and co-writer Tyson Stock have quite different backgrounds—you from Israel, having spent time in Paris, and Tyson from Kirksville, Missouri. How did the interplay of differing backgrounds affect the development of Saints Rest?
A: I think our different backgrounds contributed a lot to the development of our screenplay by allowing each of us to express unique perspectives. The film takes place in a small Midwestern town, which is where Tyson is from, and features an Israeli character who is far away from home, which is something I could relate to from my time of living in the States. The film also raises questions about the meaning of "Home" and the debate over big city versus small town – which is a discussion Tyson and I often had since I come from Tel-Aviv, which is the 2nd largest city in Israel. I think that, overall, our different backgrounds enriched the film and allowed us to tell a more compelling story.
Q: I imagine that making a film would generate some strong relationships. Are you still in touch with cast members and technicians involved in creating Saints Rest?
A: Absolutely. Several people in our cast and crew were good friends of mine even before we made this film, and we continue to be in touch in hopes of working together again soon.
Q: Can you tell us something about what you're working on now?
A: Sure. I'm currently working on my next feature film, a drama written by Tyson Stock, which I hope to direct sometime next year. It's still early in the process so I can't say too much about it at this point, but hopefully soon.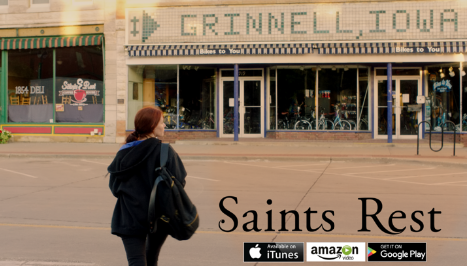 Meanwhile, Grinnellians have the digital release of Saint Restto look forward to. The film is a charming, sensitive exploration of complicated themes, infused with lush and memorable music. Saints Restasks important questions, the kind that viewers must answer for themselves.
Visit the film's website at www.saintsrestmovie.comfor more information.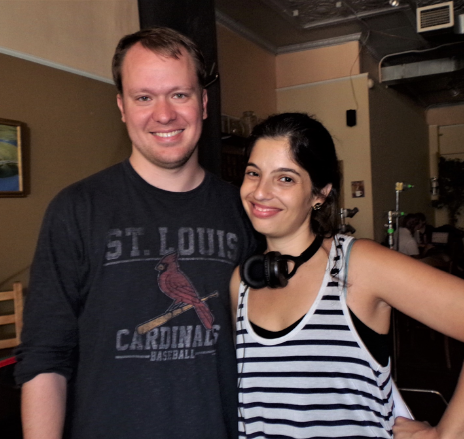 Tyson Stock and Noga Ashkenazi at Saints Rest during the filming of their movie, July 2016