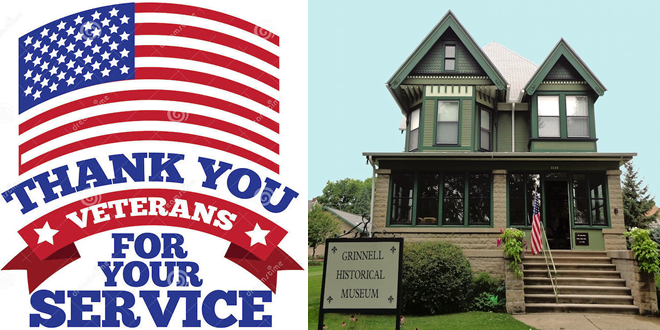 The Grinnell Historical Museum and The Mayflower Community will team up to provide a tribute entitled "We Care" to all veterans, active duty personnel, and their families in celebration of Veterans Day, Monday, November 11, 2019.
The lobby of Mayflower's Pearson building, 616 Broad Street, Grinnell will host a variety of activities. The Historical Museum will show its PowerPoint presentation, Hometown Patriots: A Testimony to Sacrifice and Service. The continuous loop shares the stories of Grinnellians who served their country in the military from the Civil War through the Vietnam War. In addition, military artifacts from the Museum will be on display.
Area veterans are invited to share any of their own military artifacts, including photographs, which will be placed in Mayflower's glass display case. If you wish to display an item, please notify Barb Lease at 641-990-1850.
Stories of military service by veterans and their families are also encouraged. Free refreshments will be served.
Veterans' Day gives us a unique opportunity to honor all the men and women who have served or are serving in defense of our country. As a way to honor our active duty military personnel, items will be collected for a Care Package to send overseas. With that in mind, community members are asked to bring items such as stationery, envelopes, pens, lip balm, sunblock, books, magazines, crossword and Sudoku puzzles, board games, flavored powdered drinks, and hand sanitizers to contribute to the Care Package.
The public is invited to come any time between 10:00am and 3:00pm in the Pearson building. To all our veterans and their families, Thank you for your service.
The Grinnell Historical Museum is a non-profit volunteer organization whose mission is to "Preserve and share the history of Grinnell, Iowa through artifacts." In response to a community development contest hosted by the Grinnell Herald-Register in 1958, four local women's groups collaborated to establish the Museum. Included were the efforts of two chapters of the Daughters of the American Revolution (DAR), the Historical and Literary Club, and the Tuesday Club. The Museum was certified by the State of Iowa for the specific purpose of gathering objects of historical interest and importance to preserve them for cultural and educational purposes for present and future generations. Although it is closed October through March, tours can be arranged. Call 641-236-7827, and a volunteer will return your call as soon as possible.
Museum Board members include Cheryl, Neubert, President; Ann Igoe, Vice-President; Dan Kaiser, Secretary; Vera Cousins, Treasurer; Barb Lease, Textile Preservation and Exhibits; Karen Groves; Scott Gruhn; Mike Guenther; Allison Haack; Bill Hammen; Gary Meldrem; Frank Shults; Craig Sieck, and Sherry Wallace.
Founded in 1950, the Mayflower Community is the only healthcare provider in Poweshiek County offering Medicare certified skilled nursing care, certified assisted living, and licensed residential care, all on one campus. More than 280 people make their homes in the Mayflower Community's healthcare, independent living apartments, patio homes, and the new Watertower Square apartments. More information is available at http://www.mayflowerhomes.com/ or by calling 641-236-6151.