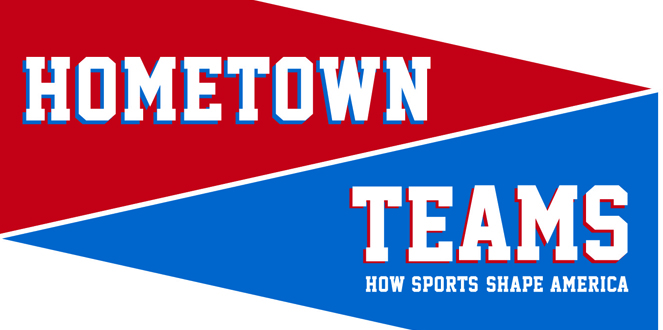 The high schoolers represent Brooklyn-Guernsey-Malcom, Grinnell and Montezuma
GRINNELL, Iowa – Top high school athletes from across Poweshiek County, with share their sports stories from 2 to 3 p.m. on Sunday, April 14, at Drake Community Library.
This event, which is free and open to the public, complements the "Hometown Teams: How Sports Shape America" Smithsonian Traveling Exhibition. The exhibition, sponsored by Grinnell College, is open to the public during regular library hours through April 20.
WHAT:
KGRN Radio Sports Director Chris Varney will moderate the discussion, asking the athletes questions related to the "Hometown Teams" exhibit, including:


How they got involved in sports;
How sports changed them as individuals;
What it is like to play sports in their hometowns; and
Who has most influenced their development as athletes
WHEN:
Sunday, April 14, 2-3 p.m.
WHERE:
Community Room at Drake Community Library, 930 Park St., Grinnell
WHY GO:
Attendees will get a unique perspective on sports in their community and learn more about the individual athletes. There will be time for audience members to ask questions and interact with some of the best athletes in Poweshiek County.
WHO:
Participating athletes will represent the following high schools:
Brooklyn-Guernsey-Malcom High School
Junior Noah Beck, standout athlete in baseball, football and basketball. He led the Bears in hitting and ERA last year and led BGM football in rushing. He also was the leading scorer on the basketball team, including scoring a triple double in one game.
Senior Scott Tibbetts, starting quarterback and co-captain for the Bears football team. As co-captain for the basketball team, he averaged double figures in scoring. He plans to attend the University of Iowa as did his late sister Mollie Tibbetts.

Grinnell High School
Senior Macy Harris, first-team all-state and academic all-state in basketball. She scored over 1,000 points and over 500 rebounds in her Tiger basketball career. She was captain her senior year, helping the Tigers go to the girls state tournament for three straight years. She will attend Wartburg College to play basketball and tennis.
Senior Jayden Gibson who set the GHS boys baseball record for pitching strikeouts in a game (15). He also was ranked the 23rd best baseball player in the Class of 2019 in Iowa by Prep Baseball Report. He will play baseball for Western Illinois University.
Montezuma Junior/Senior High School
Senior Mya Pargeon, co-captain and starter for Montezuma's girls basketball and volleyball teams; both reached the state tournaments this season. She also was Queen of the 2018 Poweshiek County Fair. She will attend Iowa State University, where she plans to major in agronomy.
Senior Nolan Reynolds, a key player and the fourth leading scorer for the Montezuma boys basketball team that went to the state tournament this season. He is a great defensive player and was the "sixth man" for the Braves this year. He plans to run track for Central College.
Broadcast of the Discussion:
The conversation will be aired at 6 p.m. Thursday, April 18, on KRGN's "The Extra Point."
Final 'Hometown Team' Event:
There will be a final special event associated with the "Hometown Teams" exhibition – a Storytime and Scavenger Hunt for children from 10:30 to 11:15 a.m. on Saturday April 20, in the Storytime Room of the Drake Community Library. Children will listen to a sports-related story and compete in a scavenger hunt. Prizes will be awarded for the fastest times in the hunt.
About "Hometown Teams"
Grinnell College has formed a partnership with the Smithsonian Institution to bring SITES (Smithsonian Institution Traveling Exhibition Service) exhibitions to Grinnell this spring and summer. This partnership enables Grinnellians and other Iowans to have access to the cultural resources of the Smithsonian. The first exhibition, "Hometown Teams: How Sports Shape America," will continue to be on display through 5 p.m. on Saturday, April 20, at the Drake Community Library.