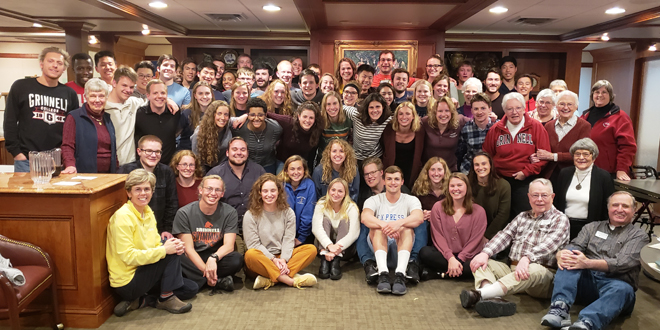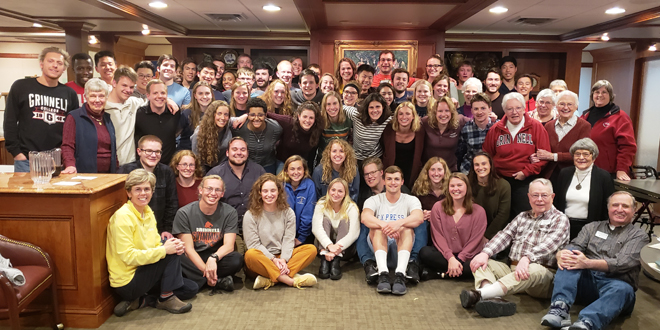 On Wednesday, January 16th, The Mayflower Community (Grinnell, Iowa) hosted the Grinnell College men's and women's swimming teams for a nutritious pasta supper in the Buckley Dining Room. The student-athletes were living in their college dorm rooms while most the Grinnell College student body was gone for winter break.
Head Men's and Women's Swimming and Diving Coach, Erin Hurley brought her team to Mayflower for the dining excursion. She has been coaching the sport at Grinnell College for over 17 years. 80 students and Mayflower hosts enjoyed the meal.
Kellie McGriff, Mayflower's Administrator/Associate Director addressed the swimmers by sharing the story of "Pfitsch's Fishes," a group of Grinnell seniors who have been engaged in swim exercises in the College pool for almost 30 years. Founded by former Athletic Director and Swim Coach, John Pfitsch, the group continues to meet weekday mornings from 8:00 to 9:00am. As John is now deceased, the group continues to work out in the water to the sound of John's voice on a long-ago recorded CD. Anywhere from five to 20 Mayflower residents participate, most arriving on Mayflower's Lester the Bus.
In addition, Kellie encouraged the athletes to consider volunteering at Mayflower in the "Adopt-A-Grandparent" program where Grinnell College students pair one-on-one with healthcare residents for once-a-week enrichment. Kellie also suggested that students interested in careers in allied health professions consider getting some of their 2,000 hours of grad school practical experience serving as Certified Nursing Aides (CNAs).
Included in Mayflower resident hosts were John Pfitsch's widow Emily. Pfitsch's Fishes veteran, Gordon Packard, shared stories of working out in the College's original three lane, 20-yard pool. Others participating included Bob and Dot Anderson, Pat Cushing, Dee Fairchild, Art Heimann, Russ Leggett, Jean Libbey, Jan and Steve Lovig, Karen Packard, and Mary Schuchmann
The students' response? They were already bugging Coach Hurley to come back next year!