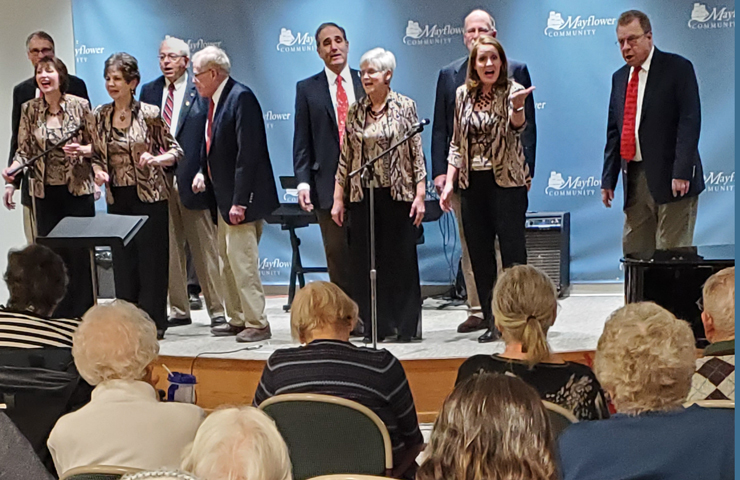 Thank you, Shults & Co. Thank you, Mayflower Residents Association Lyceum Committee. Because of you, Mayflower Community (Grinnell) residents and guests on February 27thenjoyed an encore performance of last week's bi-annual Shults & Co Las Vegas Revue.
The Carman Center was full as independent living, assisted living, and Health Center residents, family members, and community visitors enjoyed the rendition snippets of songs from Las Vegas shows.
Since 1995, sponsored by the Grinnell Rotary Club, the celebrated Shults & Co singers and musicians have raised over $100,000 for worthy Grinnell causes during their bi-annual spring shows. The recipients of this year's donation were the Grinnell Police and Fire Departments. Other groups assisted by these efforts have included UPH-Grinnell Hospital, the Grinnell Senior Center, middle and high school music departments, the Grinnell Recreation Department, The Grinnell Area Arts Council, the Drake Community Library, and Grinnell Production.
Performing on Thursday night were vocalists Frank Shults (director), Gailanne Dill, Debby Pohlson, Dodi Reilly, Sherry Shults, Tim Dill, George Drake, Bill Hammen, Austin Jones, and Jerry Lane. The instrumentalists were John Landkamer, a Mayflower resident; Kent Kastendick; Gary Larsson; Lowell and Kathy Vanderploeg; and Christian Williams.