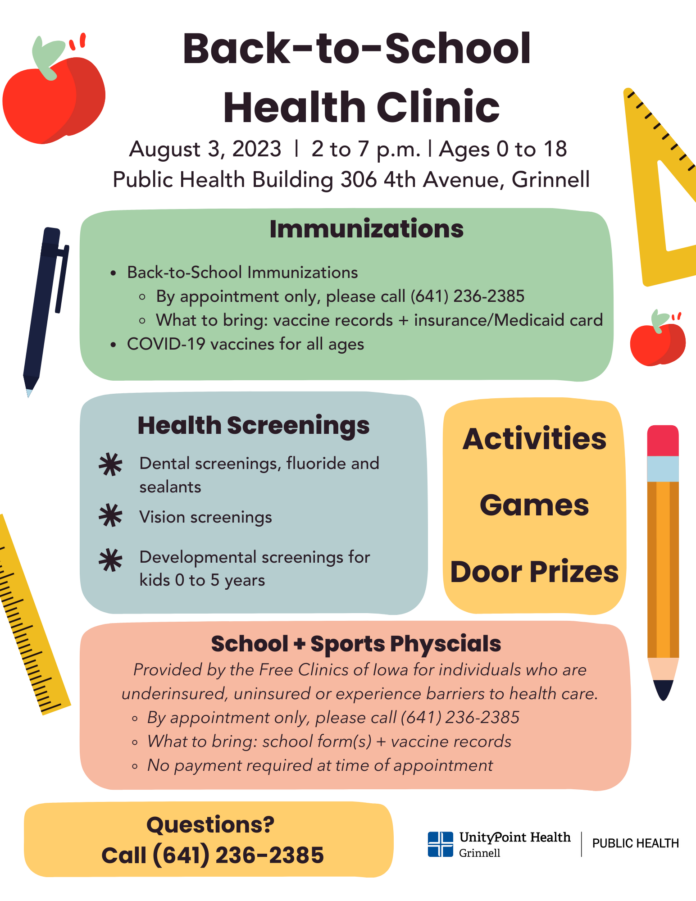 (GRINNELL, Iowa – July 11, 2023) School is around the corner and to prepare for the upcoming year, UnityPoint Health® – Grinnell Public Health will host a Back-to-School Health Clinic for children ages 0 to 18 on Thursday, August 3 from 2 to 7 p.m. at the public health building (306 Fourth Ave., Grinnell, IA 50112).
This health clinic will consist of the following health services.
Back to school immunizations are available by appointment only. Please call (641) 236-2385 to schedule. Individuals are asked to bring their child's vaccine records and insurance/Medicaid card.
COIVD-19 vaccines will also be available for all ages; no appointment required. Individuals are asked to bring their COVID-19 vaccine card.
Health Screenings.

Dental screenings/fluoride/sealants
Vision screenings
Developmental screenings for 0 to 5 years
School and Sports Physicals. These physicals are provided by the Free Clinics of Iowa for individuals who are underinsured, uninsured or experience barriers to health care. Physicals are by appointment only; please call (641) 236-2385. Caregivers must bring the appropriate school form(s) the provider needs to fill out and the child's vaccine records.
If further care is needed, referrals can be made. Public health is happy to help individuals navigate next steps. Attendees can also participate in various activities, games and receive door prizes during the event.
Thank you to all businesses, organizations and individuals that donated their time and resources to provide a variety of services and make this event possible. For questions or to schedule a physical or vaccine appointment, call (641) 236-2385.