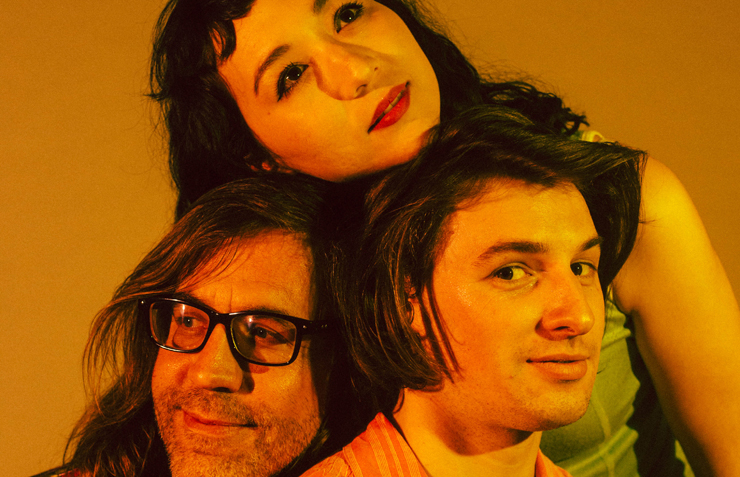 On Friday, September 13, local band Pink Neighbor will perform in the Loft Theatre to celebrate the release of their new album Time Beach Universe. Pink Neighbor is comprised of Grinnellians Katie In, Erik Jarvis, and Carlos Ferguson. Special guests Betty Moffett & Friends, Mark Laver, Yeardley (a new Grinnell band), and Grinnell College student Saketan Anand will each perform one or two songs as well. Pink Neighbor's new album will be for sale on 12" vinyl and CD.

Since forming in 2015, Pink Neighbor has earned a reputation for their intimate and inviting performances. Jarvis says, "Katie and I started playing together as a duo at Relish. We never used a PA system or even amps, so we had to design our shows to be on the quiet side, but still exciting."
While these early Relish events mostly featured repertoire from other artists, Pink Neighbor now performs all original music. Jarvis continues, "We were both solo performers and songwriters in those days, but rarely made time to practice together, let alone write songs. But learning all those tunes from the Beatles and American songbook definitely influenced the way we write and arrange our music. Grinnell is a college town, but it's also somewhat of a retirement community. One of Pink Neighbor's greatest strengths is that, when we're successful, we're able to appeal to a wide audience. I think that definitely comes across in our live performances, and hopefully on the album, too."

The eight-song album was recorded to analog tape in Rock Island, IL. In says, "We got into analog recording a few years ago because we preferred the warm sounds of tape to digital recording, and we liked learning about how the recording process worked before computers. We have brought all our solo and Pink Neighbor projects to this studio in Rock Island over the past few years, and they've sounded better and better as we get more confident in our studio work. We've even become good friends with audio engineer and studio owner Patrick Stolley, and we consider him to be one of our key collaborators on the new album."

For their release show in the Loft Theatre, the band decided to have a few special guests instead of one opening act. Jarvis says, "We were having a hard time narrowing down the list of people we want to play with, so we decided to have lots of different acts play throughout our set." One of their guests, Betty Moffett (local writer and songwriter, and member of Too Many String Band) adds, "It's a privilege to live in a community where, instead of competing, musicians appreciate, support, and learn from one another."
Tickets are available now at the Arts Center, or online at www.grinnellarts.org/tickets. Admission is $10 for adults, and free for students. This event is sponsored by Grin City Bakery. For more information, you may contact the Arts Center at 641-236-3203.