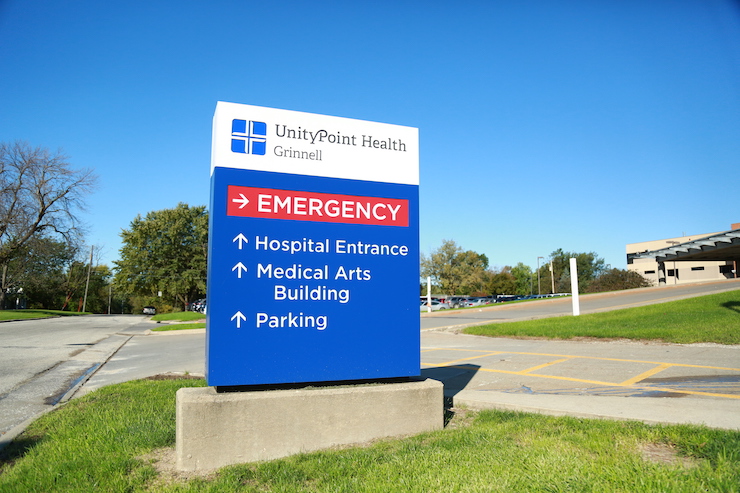 Grinnell, IA – January 23, 2020 – In 2019, UnityPoint Health® – Grinnell Regional Medical Center (GRMC) celebrated 100 years of health care from their location at 4th Avenue and Reed Street in Grinnell. 2020 will be another year of celebration as it marks the two-year anniversary of GRMC's integration with UnityPoint Health.
GRMC announced a formal affiliation with UnityPoint Health – Des Moines on January 1, 2018. The partnership was formed because of a shared commitment to provide high-quality health care to Grinnell and surrounding communities for years to come.
One of the primary reasons GRMC considered joining a larger health care system was to preserve the financial viability of a great hospital in a small community. GRMC faces the same financial struggles inherent to the health care industry, as costs to buy supplies and pay employees are rising faster than revenue.
Although UnityPoint Health faces similar struggles – size lends stability. "Even though health care is still a tough industry to be in, pooling resources together provides more strength. UnityPoint Health is a financially stable organization and it helps us to be a part of them," says Jennifer Havens, chief executive officer at GRMC.
Cost Savings
Integrating with UnityPoint Health also helped to reduce a number of expenses by allowing GRMC to realize savings with larger volume discounts and service contracts negotiated by UnityPoint Health. "They have system-wide contracts with vendors and we are able to get supplies, equipment and services much more affordably by being a part of this organization," Havens says.
One other area of cost-savings was employee health insurance and benefits. By affiliating with UnityPoint Health, GRMC employees became a part of the UnityPoint Health insurance and benefit plan, which is a much larger group, and was able to significantly decrease costs to GRMC.
New Services and Providers
By leveraging resources available through UnityPoint Health, GRMC was able to improve their financial stability and focus on growth in key services. Several new services GRMC started offering are a direct result of the affiliation with UnityPoint Health.
One new service that came to GRMC is orthopedics through a partnership with Des Moines Orthopaedic Surgeons (DMOS). DMOS and UnityPoint Health – Des Moines have a long-standing relationship and were able to work together to bring this specialized service to Grinnell area residents.
The affiliation also brought hepatology and nephrology services and providers to GRMC and expanded cardiology care options for patients.
New Technology
Over the past two years, GRMC has implemented a number of new technologies as they became part of the UnityPoint Health family. These technologies enable GRMC to work more seamlessly across their system – sharing information, best practices and operating as efficiently as possible.
These technologies include Lawson, a new software system for accounting and human resources, and Epic®, the industry standard electronic health record shared by all of UnityPoint Health as well as University of Iowa Health Services, for storing and transmitting patient medical records.
"Moving to new technologies can be very challenging but our team was very well-prepared," says Zach Weiderspon, director of integration and planning at GRMC. "We owe our success to our team; they really embraced the changes and hit the ground running."
Focus on Local Needs
Throughout the affiliation with UnityPoint Health, GRMC still remains independent in several important ways including the GRMC Board of Directors and GRMC Foundation Board.
"UnityPoint Health does a great job supporting their local organizations," Weiderspon says. "Part of our affiliation with UnityPoint Health is that they want to keep governance local. They want to make sure the local hospital is overseen by members of our community, that care delivered locally is managed locally and that same sentiment applies with the GRMC Foundation and gift-giving."
The GRMC Foundation is proud that one hundred percent of every dollar donated stays local to benefit the health care services and programs in the GRMC service area.
Focus on Values
A real benefit of the affiliation has been building on the already excellent culture at GRMC through UnityPoint Health's FOCUS values: Foster Unity, Own the Moment, Champion Excellence and Seize Opportunities. The shared core values of GRMC and UnityPoint Health made integration a smoother process.
"I've been part of UnityPoint Health for eleven years," says Havens. "Our FOCUS values are not just words on the wall. We hold each other accountable to living our values every day. And what's been nice for me as the new leader in Grinnell is to let people here at GRMC know, nothing is really changing about how you work every day. You still have high expectations of yourself, you work really hard to make sure we're providing the best care for our patients, you care about the patients' experiences when they walk in our door. All of these things are the framework of what UnityPoint Health is and were already at the core of the GRMC team. It's been great to be able to tell them just keep doing what you've been doing, because you've been doing a lot of things really well."
Our Future
GRMC has a lot to be proud of – especially where quality of care is considered. "Grinnell is one of the best rural hospitals in the country in terms of quality and patient experience," says Kyle Wilcox, vice president of finance and operations at GRMC.
"Hospitals are ranked based on something called 'value-based purchasing,' and we're in the 95th percentile in the country among over 3,000 participating hospitals. That is something to be very proud of," says Wilcox. "Iowa is a rural state and having hospitals like GRMC helps balance the UnityPoint Health system in both urban and rural areas."
Affiliating with UnityPoint Health provided GRMC with more resources, both human and capital, and has enabled GRMC to keep doing what it has always done: serving our communities and focusing on patient care.
"Our hospital has been here for more than one hundred years, and the job I take very seriously is making sure it's here for another hundred," Havens says. "I feel tremendous responsibility to ensure GRMC is still here, taking care of patients well into the future."
##
About UnityPoint Health – Grinnell
UnityPoint Health® – Grinnell is a nonprofit and non-tax supported rural health care provider serving more than 40,000 residents in a six-county rural area of east central Iowa. UnityPoint Health – Grinnell includes Grinnell Regional Medical Center -a 49-bed hospital- as well as the Manatt Walk-In Clinic, Grinnell Family Practice, Victor Health Center, UnityPoint at Home and UnityPoint Hospice. It is comprised of 50 physicians and allied health care professionals who provide an array of services from birth to end-of-life. Specialties include bariatric surgery; emergency medicine; family medicine; general surgery; internal medicine; obstetrics/gynecology; otolaryngology; pain management; pathology; pediatrics; podiatry; radiology; and geriatric medicine. Visiting specialists in more than 10 concentrations provide additional specialty care for area residents. For more information, visit unitypoint.org/Grinnell.
About UnityPoint Health – Des Moines
UnityPoint Health® – Des Moines has more than 7,700 employees and 1,000 physicians providing convenient care to patients in central Iowa through our integrated network of clinics, hospitals and home care services. UnityPoint Health – Des Moines is made of up Iowa Methodist Medical Center, including Younker Rehabilitation and central Iowa's only Level I Trauma Center; Iowa Lutheran Hospital; Methodist West Hospital; Blank Children's Hospital, including pediatric sub-specialty clinics; John Stoddard Cancer Center; Grinnell Regional Medical Center; Eyerly Ball; UnityPoint Clinic; UnityPoint at Home and UnityPoint Hospice.