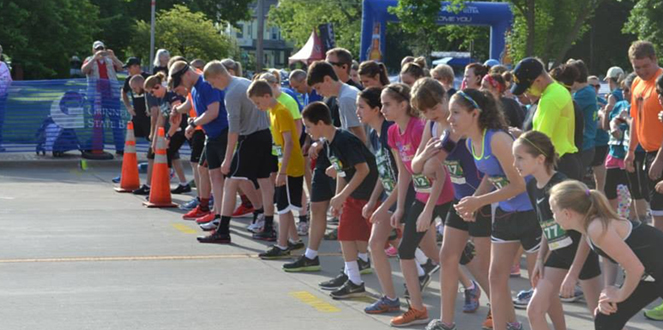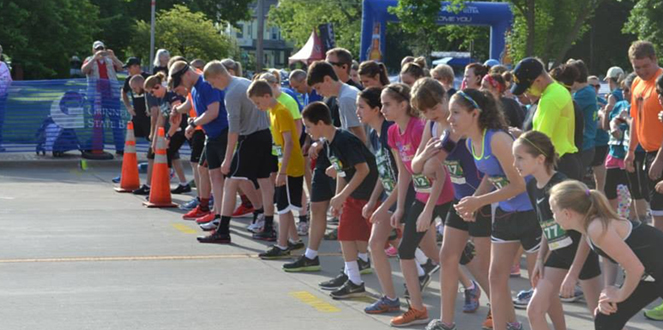 Grinnell Games, a family sports festival in Grinnell, will hold events in June and August 2019. Events scheduled for Saturday, June 15 include a Half Marathon, 5K and Lil' Warrior Run. A Sprint Triathlon and Mini Triathlon are scheduled for August 25, and registration for all events is available now at grinnellgames.com.
New for 2019, and in an effort to support our community's health needs as referenced in the community health needs assessment held earlier this month, this year's Grinnell Games 5K will be free for local participants! "One of the health goals is to promote healthy diet and exercise for the achievement of healthy body weights," references Rachael Kinnick, director of the Grinnell Chamber of Commerce, the organization responsible for planning the Games. "We recognize that cost can be a barrier to entry for many, and we want to do what we can to eliminate that barrier and encourage more people to take charge of their health by participating in the Games." The 5K at Grinnell Games is open to all ages, abilities, and speeds and will begin at 8:00 a.m. "We hope to see much of our community and neighbors take advantage of this opportunity, made possible by the Ahrens Park Foundation, and use it as a way to kick-start their healthy journey," says Kinnick.
Participants should still register for the event at grinnellgames.com and use the code 'HEALTH' when registering to avoid any registration fees. Individuals wanting to participate in a chip-timed race should register online and pay the $15 fee which will also cover an event shirt and swag bag. Individuals who had previously registered for the event and paid a fee will be contacted by Chamber staff to discuss refund options. Any participants who choose the free 5K option will not have a chip-timed race nor receive an event shirt though this option may be added up until 30 minutes prior to race time, and shirts may be purchased through the 'Store' on the registration site.
Grinnell Games also features a half marathon, with participants enjoying a beautiful course through much of Grinnell, Iowa. The course is relatively flat and loops through downtown, beautiful neighborhoods and Ahrens Park, ending near Central Park downtown. The Half Marathon will begin at 7:00 a.m. on Saturday, June 15.
The Lil' Warrior Run will kick off at 10:00 a.m. in Central Park. Kids are invited to join in the Grinnell Games excitement by participating in this fun obstacle course with challenges such as tunnel crawls, ladder steps and hurdles. The Lil' Warrior Run is intended for kids ages 3- 10 and registration is encouraged at grinnellgames.com.
A pancake breakfast, organized and led by members of Paragon Church, will follow the Half Marathon and 5K in the Central Park shelter. Paid participants will eat free; all others should anticipate a free will donation with all proceeds from the breakfast going to support the local program and initiative Tiger Packs, ensuring children in the Grinnell-Newburg School District have access to food on weekends and extended school breaks. Previous years' breakfasts have raised close to $500 and event organizers hope to exceed that fundraising goal this year.
Day-of registration will be available for all events. All activities for the June 15th weekend will be centered downtown with the starting lines for the 5K & Half Marathon on 4th Avenue, near the intersection of 4th & Broad. The finish line will be near the Central Park stage and the remaining events, including the free Lil Warrior Run, a pancake breakfast and free, fun family activities will take place in the grass area in front of the Central Park stage immediately following the conclusion of the morning races.
Individuals not able to participate in the races are encouraged to volunteer their time. Grinnell Games is in need of hardworking volunteers for a variety of events in both June and August. Commitments can vary from a few hours to as long as you would like to be available. To sign up for your desired time go to https://signup.com/go/hQnkQKx.
Grinnell State Bank is the presenting sponsor of all Grinnell Games events, and the Games are additionally supported by the Grinnell Sports Authority, Ahrens Park Foundation, Unity Point Health – Grinnell Regional Medical Center, Grinnell College, and Paragon Church. Grinnell Games is produced by the Grinnell Area Chamber of Commerce & CVB.
For more information about Grinnell Games and to sign up for an event, visit www.grinnellgames.com.