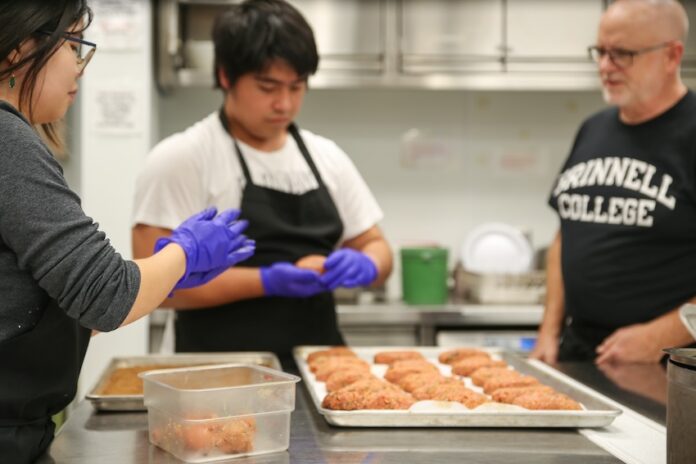 Food-focused tutorial class prepares a meal for the local community
Most Grinnell tutorials typically meet in a classroom, but there is one class that often gathers in a unique setting at the heart of the Grinnell College campus — the Marcus Family Global Kitchen. The Global Kitchen is a dynamic new teaching space in the Institute for Global Engagement within the Humanities and Social Studies Center that celebrates different cultural traditions and educates students in the important practice of feeding themselves and others in an ethically grounded and environmentally sustainable way. This innovative learning environment goes beyond conventional culinary education by fostering an interdisciplinary study of food, promoting global discovery through an exploration of its central role in the human experience.
Professor of Russian Todd Armstrong teaches the Food Stories tutorial. His students broaden their exploration beyond textbooks and lectures, delving into the world of food and its profound cultural significance. Within the cozy confines of the Marcus Family Global Kitchen, students in the Food Stories tutorial embark on a journey that combines intellectual discourse with practical, hands-on experience. In this class, they discuss and write about food and also partake in the art of culinary creation, which come together in an extraordinary blend of academia and gastronomy. The class transcends the boundaries of a conventional classroom, and learning unfolds amidst the sizzle of ingredients and rich aromas.
Armstrong shared, "In this tutorial, we delve into a culinary journey that extends beyond the classroom, thanks to the dedication of the Global Kitchen Team, led by our Culinary Coordinator, David Stanley. The support of our Global Kitchen Peer Mentors adds a unique dimension to this exciting form of teaching. Together, we're not just crafting meals; we're fostering an environment where students explore the rich connections between food, culture, and community."
At the end of October, Armstrong and his enthusiastic students teamed up for a special event that combined cooking, creativity, and compassion — preparing and serving food for the newly reinvented Grinnell Community Meal. Armstrong and his students stood side by side, serving up more than just a meal; they embodied the spirit of community. Their efforts not only addressed the issue of food insecurity, but also created a meaningful connection with the local community. This extraordinary classroom experience exemplifies Grinnell's commitment to learning, makes an active response to social needs, and celebrates local connections.
Ryan Solomon, associate director of civic education and innovation at Grinnell College, shared, "Grinnell Community Meal is a testament to the impactful collaboration between the Grinnell College and the Grinnell United Methodist Church. In this partnership, we've enlisted the support of two dedicated service leadership work study students, who play a crucial role in coordinating the meal and facilitating volunteer efforts. This initiative represents a vital link between the College and the community, and we were particularly appreciative to have Professor Armstrong's class as the first team of Grinnell College volunteers under the combined meal framework. Our goal is to offer students meaningful opportunities to engage with and learn from community members."
The Grinnell Community Meal is the result of the newly combined Davis Community Meal and Grinnell United Methodist Church's Blessed Community Meal – both of which operated independently before the pandemic but have now come together to meet the dual purpose of food and fellowship. In 2020, when the COVID-19 pandemic created increased food insecurity, a network of local organizations and individuals quickly came together and created the Grinnell Food Coalitionto work together to meet the growing need. The recent blending of these two meal programs is an example of that continued commitment to collaboration and longer-term sustainability while also preserving the best of both. The new Grinnell Community Meal is served weekly at the Grinnell Methodist Church, is open to all community members, and operates with the assistance and support of community groups such as the Food Stories tutorial; these volunteers serve the meal, engage with community members, and strengthen the Grinnell community as a whole.
Delphina Baumann, Member of Grinnell Methodist Church and Chair of the Grinnell Community Meal, shared, "The Grinnell Community Meal is more than just a gathering; it's an exciting opportunity for us to transform past events into something sustainable for the future. It allows us to serve our community members as well as offering organizations a chance to contribute either through volunteering their time or providing financial support. This collaborative effort embodies the spirit of community and sustains the vision of a shared, nourishing future."
"The Grinnell Community Meal is a wonderful time for members of our community to come together. It goes beyond providing a meal – it creates an environment for meaningful conversations. After enjoying a meal prepared by Todd's class, numerous individuals approached me, expressing not only their satisfaction with the delicious food but also the joy of connecting with others. It's moments like these that make this community initiative truly special," added Baumann.