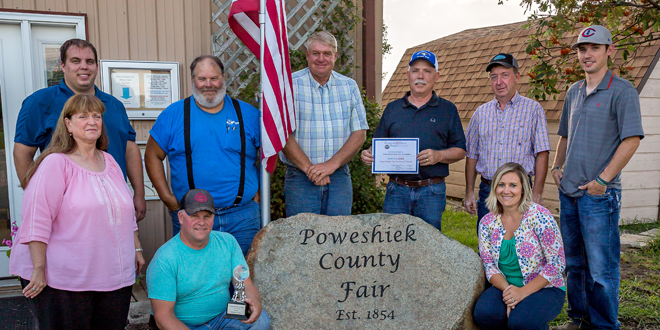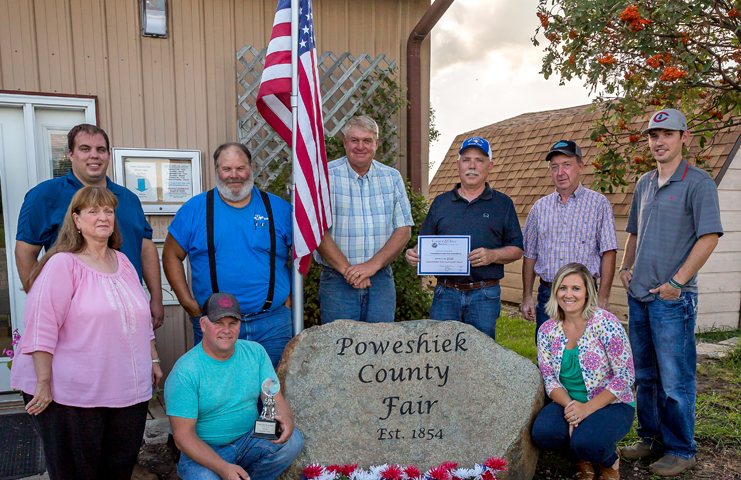 The Poweshiek County Fair Foundation is the 2019 winner of the "Leave It Better ThanYou Found It" award from the Claude W. and Dolly Ahrens Foundation (CDAF). The fair foundation was established in 2004 as a nonprofit organization to benefit the upkeep and ensure the future of the 18-acre county fairgrounds facilities on the southern edge of Grinnell.
The "Leave It Better" award commemorates the August birthday of the late philanthropist Claude W. Ahrens. To date, more than 300 area individuals, groups and organizations have been honored by the annual recognition program of those making a difference in the community.
CDAF President and CEO Julie Gosselink said that the Poweshiek County Fair Foundation was selected for the award because of "the central role the Fairgrounds' board and volunteers play in providing first-rate facilities and programming for area 4-H and FFA youth and the greater Poweshiek community."
The fair foundation will receive a $5,000 grant and traveling trophy from CDAF as part of the foundation's annual recognition. The traveling trophy will be displayed in the exhibit building at the fairgrounds, and the cash award will be designated by the fair board for upgrade and replacement of equipment needs at the 30-year-old facilities, according to fairgrounds employee and ex-officio board member Marcia Iverson.
"Our mission first and foremost is to have the best county fair facilities available for the public and residents of Poweshiek County," Iverson said. "We are very proud of our facilities, and this award makes us feel like we are making the right decisions to provide a safe, family-friendly atmosphere well into the future."
A nine-member board, led by President Scott Sieck, oversees the day-to-day business of the fairgrounds and organizes its most visible activity, the annual Poweshiek County 4H/FFA Fair, which started in 1854. The current facilities, constructed in 1986, are also used throughout the year by many external groups, as well as for fundraisers sponsored by the foundation to benefit the fairgrounds.
"We want to be involved in the community and to bring more people to our county," Iverson said, listing fair concessions, vendor shows, and the popular Extreme Bull Riding event among the foundation's fundraisers. Nominal fees for public use such as receptions, business meetings, auctions, and livestock shows also support the foundation's efforts.
Community members interested in joining the Poweshiek County Fair Association or volunteering at the fairgrounds may do so via the website: www.poweshiekcountyfair.org/.Gifts to Poweshiek County Fairgrounds may be sent to Poweshiek County Fair Association, 425 East St. S., P.O. Box 372, Grinnell, 641-236-7959.
Information about the Leave It Better Award is available at ahrensfamilyfoundation.org/leave-it-better-awards/.