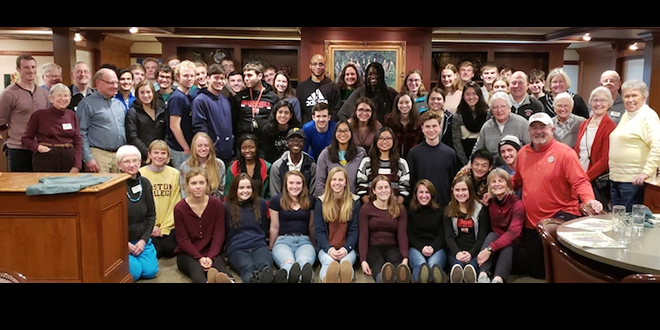 On Tuesday, January 15th, the men's and women's Grinnell College track teams came to dinner in the Mayflower Community Buckley Dining Room. Stranded in the dorms during winter break, the young men and women enjoyed Mayflower hospitality and, of course, outstanding food. On the menu for the 62 guests and hosts were zucchini tofu with roasted veggies, regular and vegetarian lasagna, and chicken parmigiana.
The student-athletes were accompanied by Evelyn Freeman, Head Women's Cross Country and Track & Field Coach, and Will Freeman, Head Men's Track & Field Coach. Each in their 39thyear of Grinnell College coaching, Evelyn and Will are former undergraduate track stars and Olympic trialists (high jump and pole vault, respectively).
Evelyn led off the evening with tributes to the hosts. Greg (Sherry) Wallace is Grinnell College Senior Faculty with recruiting responsibilities. He joined the College in 1988 coaching football and golf and retired in 2016 as Athletic Director. Mayflower resident and former Grinnell College President, George Drake, a 1956 Grinnell College grad, ran on the cross country and track teams as an undergraduate. He still holds the school's 5thbest time in the 800 meters. Currently, George serves as a College lecturer and researcher.
The Freemans were hired by the Athletic Director at the time, John Pfitsch. John passed in Mayflower's Health Center in 2012. Emily, his widow, a Mayflower resident, served as a host.
Dee Fairchild and Pat Cushing joined as hosts. Dee was Athletic Director for 21 years after coaching tennis, golf, basketball, and field hockey. She is Associate Professor Emerita of Physical Education. Pat is retired from a career as a social worker, including serving in that role for 20 years with The Mayflower Community.
Also serving as hosts for the evening were Bob and Dot Anderson, John and Dorothy Noer, and Rick and Sue Ramsey.
The teams brought with them the thoughtful thank-you pictured below. They invite the public to their Saturday home indoor track meets in the Grinnell College state-of-the-art Bear Center: Saturday Jan. 26th, Feb. 9th, and Apr 20th.
Information provided by Kellie McGriff, Mayflower Community Administrtor/Associate Director