Read 2 Lead Receives 2023 "Leave It Better Than You Found" Award
The Claude W. and Dolly Ahrens Foundation announced today that Read 2 Lead will receive the 2023 "Leave It Better Than You Found It" award, which annually honors individuals, groups or organizations that make a difference in Grinnell and surrounding communities.
CDAF President and CEO Julie Gosselink said Read 2 Lead was selected for the award because of the organization's efforts to increase childhood literacy efforts and awareness in the community this past year. "Read 2 Lead is fully dedicated to helping children and families in our community be successful now and into the future, which is in the spirit of the "Leave It Better" recognition," Gosselink said.
Read 2 Lead was established in 2019 by several local individual efforts around children's literacy. Its mission is to support the early childhood language & literacy development of youth in Poweshiek County through the provision of books and programs that foster an inquisitive mind and a love of reading.
Megan Farrell, a board member of Read 2 Lead who was one of the members present to accept the $5,000 award and traveling trophy said, "We were ecstatic to learn that we had been nominated and chosen by the Ahrens Foundation as the recipient of this award. This is an incredible honor that brings an awesome sense of community support as we continue the great work of getting the right books into little hands, as early as possible". Farrell continued,
"In the past year, we have expanded our programs to engage and encourage families in reading together throughout the county, increasing the number of children we serve annually by an additional 200. Therefore, it is with such gratitude that we accept this award!
Read 2 Lead is the official Poweshiek County sponsor and financial champion of Dolly Parton's Imagination Library. Dolly Parton's Imagination Library provides age-appropriate, high-quality books to any Poweshiek County child each month from birth to age 5. To date, nearly 350 children are registered in the local area. Another hallmark program of Read 2 Lead is Books for MICA. This program works to provide children's books and a parent educator library for the families that utilize MICA. It is also through the Books for MICA program that Grinnell-Newburg high school students in the Life Responsibilities class make quilts and help choose preschool books and a stuffy given as literacy care packages for these children.
Over the last few years Read 2 Lead has increased their program offerings to include the Raising-A-Reader program, which works with the UnityPoint OB department, Poweshiek County Public Health, and local clinics to support families in their reading journey from birth on. They also added the Kindergarten Kickoff program which provides graduating preschool students a goodie bag of books and items that promote the great pastime of reading, outdoor play, imagination, and fun.
Read 2 Lead's first major fundraising event "Back 2 School Bash" in August of last year helped to sustain and expand all of these programs to allow for additional children to participate in Poweshiek County.
The "Leave It Better Than You Found It" award commemorates the Aug. 18 birthday of the late benefactor Claude Ahrens.  The program was initiated in August 1994 at the dedication of the Ahrens/Paschall Memorial Park and is funded by the Ahrens Foundation.  In a 1993 speech to the National Recreation and Parks Association, Ahrens challenged those in attendance to follow the sage advice of his father John, "to leave the world a better place than you found it."  Colleagues of Ahrens decided to encourage area residents to do the same and the effort was founded. To date, more than 300 area individuals, groups and organizations have been honored by the annual program.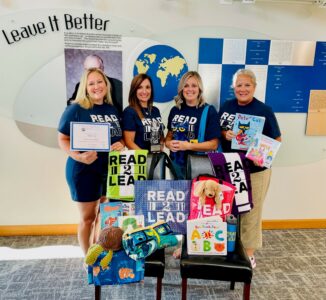 Read 2 Lead Board members (left to right): Jess Kite, Megan Farrell, Lisha Marsh and Jill Harris
Not pictured: Lindsey Altenhofen, Lisa Cirks, Nikki Harter, Jamie McClenathan, Renee Menary, Jennifer Palmer, Lindsey Starrett, Karen Veerhusen-Langerud
Information about Read 2 Lead is available at
https://sites.google.com/read2lead.info/read2lead/home
https://www.facebook.com/read2lead.info
Additional information about the Leave It Better Award can be found at
https://ahrensfamilyfoundation.org/