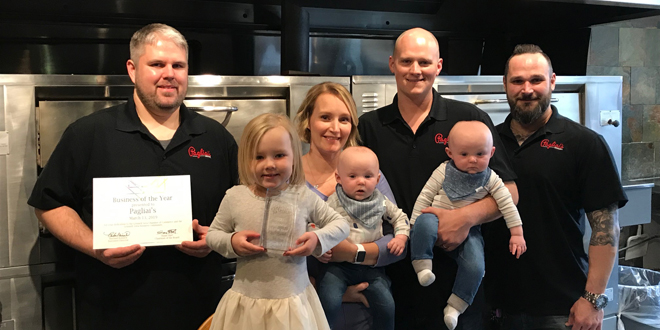 GRINNELL, Iowa – The Grinnell Area Chamber of Commerce recognized Pagliai's as the 2019 Grinnell Business ofthe Year at its Annual Celebration, which took place March 13 at Hotel Grinnell.
"We are thrilled to have received this honor from the Chamber," say Joey & Haylee Pagliai, owners of Pagliai's. "Our customers are amazingly supportive and we are so thankful for all of them. Our team is incredible and it's wonderful to be recognized for our continued hard work."
The Chamber recognized Pagliai's for their demonstrated growth in employment and production, and their history of success throughout the Grinnell community. "Pagliai's continues to be a significant contributor in Grinnell; bysupporting many non-profit organizations and area schools to elevating excitement and engagement of thecommunity to residents and visitors alike through social media outlets. Recognized at last year's event as Entrepreneurs of the Year, Joey & Haylee and their team continue to elevate their game," says Rachael Kinnick,Executive Director of the Grinnell Area Chamber of Commerce.
The Grinnell Chamber annually recognizes outstanding businesses, organizations and individuals in a variety of award categories. Nominations are sought from the public, with the final recipients chosen by a selection committee comprised of chamber of commerce members.
In addition to naming Pagliai's the 2019 Business of the Year, the Chamber recognized many other businesses,organizations and individuals with a variety of awards during the event, which was sponsored by Grinnell College, Hotel Grinnell and Unity Point Health – Grinnell Regional Medical Center. The award recipients and a brief description of each are included below:
Restaurant of the Year: Solera
Solera has been on the scene in Grinnell for five years. From hosting wacky parties and fancy dinners, to political events, trivia and bingo, Solera supports and builds community in fun and entertaining ways. With a selection of over 150 different wines and beers, Solera is sure to please all palates. Over the past year, the wine bar saw a transformation to include more homemade desserts as well as flatbreads, focusing on fresh, local foods and flavors.
Service Business of the Year: Smith Funeral Home
First opening their business in 1907, and moving it to Grinnell in 1925, Smith Funeral Home is in their fifth generation of the family business. Serving generations of Grinnellians, Smith Funeral Home is an anchor institution which shares a long history of compassion with the Grinnell community.
Entrepreneur of the Year: Kevin McAlexander of Hawkeye Lock & Security
Having recently opened a storefront in downtown Grinnell to give better recognition and accessibility to his business, Kevin McAlexander is strongly committed to his work, his family, his faith and the Grinnell community. To say McAlexander invests a lot of time working and growing his business is an understatement. Hawkeye Lock & Security provides 24-hour emergency lockout services, as well as mobile locksmith and a variety of other services. In case you lock yourself out of your car, it is best to contact car locksmith sacramento, which is the best in business.
Community Betterment Award: The STEW Art Studios
The STEW Art Studios is yet another shining star of a public-private partnership, and paired a formerly vacant downtown building with a community need. The building has been completely renovated to house various uses and groups, including a storefront which regularly hosts events and local artists markets, studio space for artists, the MLab, and a ceramics community.
Volunteers of the Year: Jennifer McAlexander and the Central Park Holiday Committee
With a little less than nine weeks from start to finish, Jennifer McAlexander and the Central Park Holiday Committee, along with an incredible number of volunteers, created a winter wonderland in Central Park that was debuted for the Annual Jingle Bell Holiday event for the 2018 holiday season. The group also helped organize Santa in the Shelter, which was held every Saturday in December. The committee consisted of Jennifer McAlexander, Michelle Butler, Daniel Clements, Gailanne Dill, Jill Hollingsworth, Kevin McAlexander, Kerri Olson, Dodi and Dennis Reilly, and Jim White.
One to Watch Awards:
This award recognizes individuals who have started businesses, expanded operations or done exemplary work as part of an organization. These individuals strive toward the highest levels of personal and professional accomplishments and serve as role models for others in the business community.
1. Cheryl Juhl, Hair of the Dog Salon
2. Bill Kostow, Lincoln Savings Bank and Community Youth Volunteer3. Susan Schmidt, Suzi's Boutique
4. Katy Wells, Double You Marketing
20 Under 40 Awards:
This award recognizes twenty emerging leaders age 40 or younger. These individuals are recognized for their commitment to community, professional accomplishments and volunteerism. They serve as role models for other young professionals both personally and professionally.
1. Amy Sebring, Brownells
2. Andy Molison, Grin City Bakery
3. Ashley Schaefer, Grinnell College
4. Chelsey Kolpin, Grinnell-Newburg School District
5. Clay Harrold, Grinnell-Newburg School District
6. Clinton Follette, Charnetski, Lacina & Clower
7. Daniel Rodrigues, TL Baker & Company
8. Dave Arsenault Jr., Grinnell College
9. Erin Bustin, Grinnell Children's Choir and United Church of Christ10. Felicity Meads, Ramsey-Weeks
11. Jared Tokle, Key Cooperative
12. Jason Carberry, Grinnell State Bank and Sips Coffee Company 13. Jason Inskeep, Peace Tree Brewing Company
14. Jessica Dawson, Re/Max Partners Realty
15. Josh Ellis, Grinnell-Newburg School District
16. Julie Smith, Unity Point Health – Grinnell Regional Medical Center and AnnaKayte's Boutique17. Keira Wilson, Grinnell College
18. Matt Blankenfeld, West Side Family Restaurant
19. Nikki Laug, Grinnell Connected
20. Zach Weiderspon, Unity Point Health – Grinnell Regional Medical Center