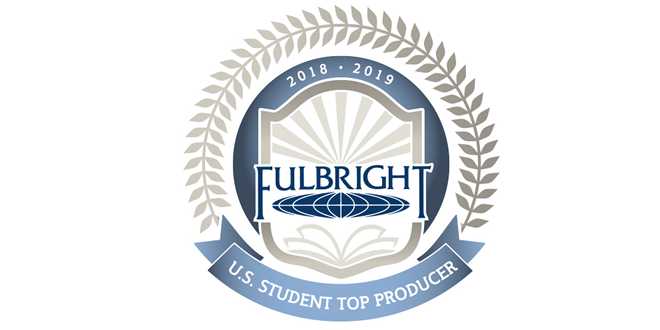 Excellent academics and a tradition of activism prepare students to make a difference
GRINNELL, Iowa – Grinnell College is listed among 46 bachelor's degree institutions as top producers of 2018-19 Fulbright U.S. Students. Grinnell has been named to this list every year since it was first issued in 2004.
The U.S. Department of State's Bureau of Educational and Cultural Affairs compiled the rankings. The Fulbright Program is the U.S. government's flagship international educational exchange program. Top-producing institutions are highlighted annually in The Chronicle of Higher Education.
Six Grinnell students/alumni won Fulbright awards in 2018-19 — more recipients than at any other bachelor's institution in Iowa, according to the Department of State. Five recipients were from the class of 2018 and one from the class of 2016. A seventh recipient who graduated in 2018 did not accept the Fulbright award.
Grinnell's 2018-19 Fulbright grantees are working in five countries:
Sara Ashbaugh and Emma Friedlander teach English at the university level in Russia;
Isabel Monaghan, 2016 Grinnell graduate, supports community service and development and teaches English in Austria;
Emma Traband instructs pre-university students at all levels in American studies and English in Germany;
Kahlil Epps helps university students learn English in Croatia; and
Caryn McKechnie teaches English at the university level in Peru.
The Fulbright competition is administered at Grinnell College through the Global Fellowships and Awards program in the Center for Careers, Life, and Service (CLS).
"Grinnell's commitment to academic excellence and preparation for students to make a difference in the world is a strong foundation for success in receiving these awards," said Ann Landstrom, assistant dean and director of global fellowships and awards in the CLS. "Our alumni return, having made a distinct impact upon the communities they serve, and having had transformative experiences that prepare them for the next steps of their professional lives."
Since its inception in 1946, the Fulbright Program has provided more than 390,000 participants — chosen for their academic merit and leadership potential — with the opportunity to exchange ideas and contribute to finding solutions to shared international concerns. Over 1,900 U.S. students, artists and young professionals in more than 100 different fields of study are offered Fulbright Program grants to study, teach English and conduct research abroad each year. The Fulbright U.S. Student Program operates in over 140 countries throughout the world.
The Fulbright U.S. Student Program is a program of the U.S. Department of State, funded by an annual appropriation from the U.S. Congress to the Bureau of Educational and Cultural Affairs, and supported in its implementation by the Institute of International Education.
For more information about the Fulbright Program, visit http://eca.state.gov/fulbright