Homepage Slider
Woe Unto Us! The Arsonists is Coming to Grinnell Feb. 19, 20, 21 & 22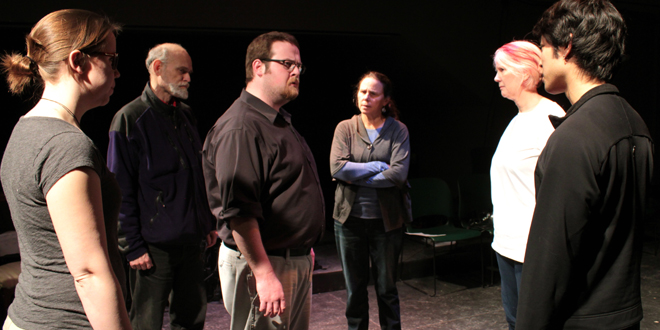 Woe Unto Us! The Arsonists is coming to Grinnell
 Grinnell, Iowa – Fires are becoming something of a problem. But Biedermann has it all under control. The great philanthropist is happy to meet his civic duty by giving shelter to two new guests, but when they start filling his attic with petrol drums, will he help them light the fuse?
The answer to this question is revealed in Grinnell Community Theatre's upcoming production of The Arsonists by Max Frisch in a new translation by Alistair Beaton at 7:30 pm on February 19, 20, and 21 and at 2:00 pm on February 22 in the Loft Theatre at the Grinnell Arts Center.  There will be post-show discussions with cast and crew after each performance.  Tickets can be purchased for $15 ($5 for students) online at www.grinnellarts.org or in person during regular business hours at Brown's Shoe Fit, McNally's, and at the Grinnell Arts Center.  There will be limited seating available.
Written by a Swiss playwright in the wake of World War II, The Arsonists is a parable how ordinary citizens, by ignoring the obvious, can be taken in by evil and become complacent with their own destruction.  "Don't let the description fool you, this is a dark comedy which delivers the perfect blend of uproarious humor and food for thought," said Samantha Newport, the show's director.   "The hyperbole of Biedermann's folly is so great that the otherwise serious content becomes hilariously absurd."
Set in London, Luke Saunders appears in the leading role as Biedermann, an upstanding citizen and businessman.  Kelly Guilbeau plays Biedermann's wife, Babette.  Rebecca Patch plays Anna, the maid. Portraying the two arsonists, Shane Donegan will appear in the role of Schmitz while Jackson Menner will play Eisenring.  Catherine Rod leads the other members of the Chorus — Wendy Abrahamson, Alex Hsieh, Kate Baumgartner, and William Crosby — as the conscience of the show.
The production will also travel to the Newton Correction Facility where Sig Barber, who is also serving as the play's dramaturg and appears in the role of the Doctor of Philosophy, is reading The Arsonists script with a class of inmates as part of Grinnell College's Liberal Arts in Prison Program.
The Grinnell Area Arts Council is a charitable nonprofit organization established in 1979 to promote, encourage, develop, and assist in the understanding, appreciation, and financial support of the arts and other cultural activities in the Grinnell area.  The Council pursues its mission through arts education, theatrical and musical performances, a farm-based artist residency, an exhibition gallery, and special arts-related events.  To learn more about the Council and its programs, visit www.grinnellarts.org.