Homepage Slider
Winners For Heritage Park Brochure Announced-Prizes and Certificates Awarded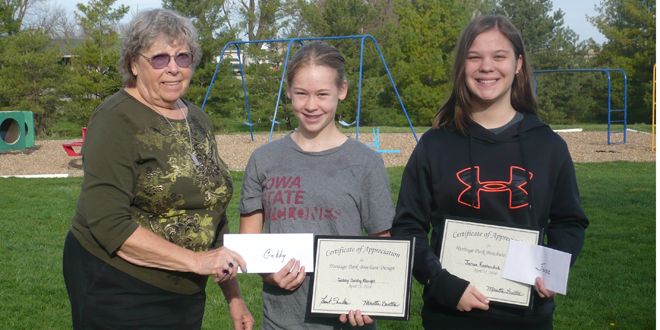 Mrs. Taylor's sixth through eighth class at Central Iowa Christian School were invited by the Board of Directors of the Poweshiek County Heritage Park to participate in a contest to create a brochure promoting Heritage Park.   On March 10 all the students in this class were bused to Heritage Park for a presentation by board member, Phyllis Meredith about Heritage Park's history and the history of the buildings found on the Poweshiek County's Fairgrounds.    After the forty minute presentation, the students had twenty minutes to take pictures and ask other questions.
The students then returned to school and, under Mrs. Taylor's leadership, created brochures to present to the Heritage Park Board for judging.   At the board's April meeting, the brochures were read and judged.   The board members were "blown away" by the quality of brochures the students had created.
The authentic work of these students will provide the framework for a brochure created to be adopted by the board.   The committee found so many excellent ideas in all the students' work, a committee composed of Jody and Bruce Potter and Frank Shults will draft a final copy for board approval at the May Heritage Park meeting.  Committee members stated the job will be harder because the students had so many good ideas.