Wes Finch Auto Plaza Donates $1,000 to Jasper County Animal Rescue League & Humane Society!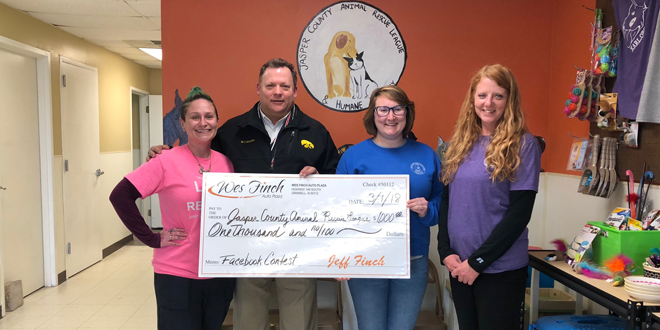 GRINNELL, IA (March 8, 2018) – Wes Finch Auto Plaza kicked off this year's donation contest with a $1,000 donation to the Jasper County Animal Rescue League & Humane Society! Voting took place in February, and the winner was announced on March 1st. The organization did a wonderful job of engaging their Facebook followers, and lead through each week of voting!
Jasper County Animal Rescue League and Humane Society is dedicated to rescuing and providing a safe-haven for all animals in need.  Their mission includes working towards finding responsible, loving, and permanent homes for all animals in their care, and protecting the community by educating and promoting a more compassionate and respectful bond between human and animals.
During this competition, 14 community-focused organizations participated. Supporters were encouraged to "like" the logo of one of the eligible organizations pictured on the Wes Finch Auto Plaza Facebook page. At the end of the voting period, the organization with the most votes ("likes") received the $1,000 donation.
This contest has continued for almost four years! Wes Finch Auto Plaza has been able to donate over $10,000 to local, worthwhile nonprofits and charitable entities.  The contest happens every 3-4 months, and is a month-long competition with approximately 14-17 local organizations participating each time.
Wes Finch Auto Plaza is a locally owned Chevrolet, Buick, GMC, Chrysler, Dodge, Jeep, RAM dealer located in Grinnell, Iowa. Wes Finch Auto Plaza is proud to be the home of the Warranty Forever! True Peace of Mind Forever on New and Pre-owned vehicles! For more information visit http://www.wesfinch.com/.