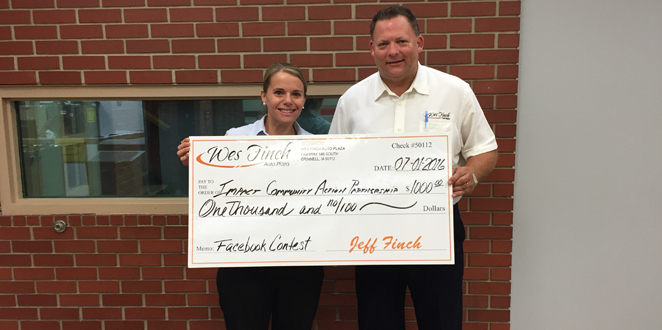 Wes Finch Auto Plaza Awards $1,000 Donation to IMPACT Community Action Partnership!
 GRINNELL, IA (July 13, 2016) – Wes Finch Auto Plaza is continuing this year's donation contest with a $1,000 donation to the IMPACT Community Action Partnership! This round of voting took place June 1st through June 30th, and the winner was announced on July 1st. The Impact Community Action Partnership did a great job engaging their Facebook followers, with a come from behind win in the last week.
IMPACT Community Action Partnership works to eliminate poverty by empowering vulnerable populations, building collaborations and advocating for social change.  This mission is accomplished by providing services to low income, elderly and disabled families in Jasper County.  Programs offered include youth program assistance (RAYS), cash food vouchers, information assistance and referrals to programs.
The Facebook Charity Contest sponsored by Wes Finch Auto Plaza is a way to increase involvement in our community, as well as to support local organizations that provide valuable services. During this round of competition, 15 community-focused organizations participated. Local residents were encouraged to "like" one of the eligible organizations listed on the Wes Finch Auto Plaza Facebook page. At the end of the voting period, the organization with the most votes ("likes") received the $1,000 donation.
Wes Finch Auto Plaza plans on hosting another round of the Facebook contest in October. Community-focused organizations interested in participating should email wesfinchautoplaza@gmail.com with their contact information.