Homepage Slider
Wes Finch Auto Plaza Awards $1,000 Donation to Grinnell Sure Shots!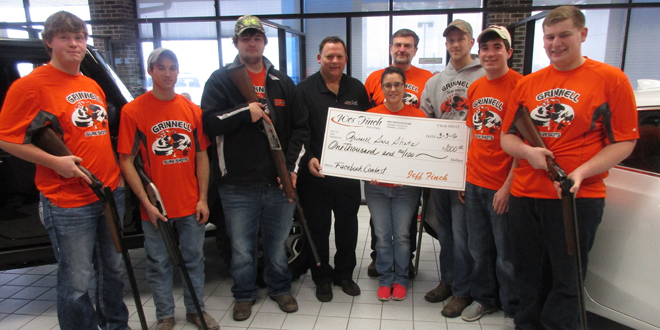 Wes Finch Auto Plaza Awards $1,000 Donation to Grinnell Sure Shots!
 GRINNELL, IA (March 22, 2016) – Wes Finch Auto Plaza has kicked off this year's donation contest with a $1,000 donation to the Grinnell Sure Shots! The first round of 2016 took place February 1st through February 29th, and the winner was announced on March 1st. The Sure Shots did a great job engaging their Facebook followers, doubling their votes in the last week alone and receiving a total of 395 votes for the win!
Grinnell Sure Shots is a non-profit SCTP (Scholastic Clay Target Program) that provides the opportunity for youth, 6th through 12th grades, to participate in the fun and challenging sport of Trap Clays. This program is designed to instill lifelong traits and skills, such as firearms safety, teamwork, self-respect and respect for others, mental focus and self-discipline, commitment, responsibility and leadership.  To participate in the group they must all, both individually and as a group, fundraise to cover all expenses. They are 100% self-funded by community sponsors, parents and fundraising events.
Wes Finch Auto Plaza established a Facebook contest as not only a way to show appreciation and give back to the local community, but also to increase community involvement and awareness. In this most recent round, 19 community-focused organizations participated. Instead of choosing the winner on their own, Wes Finch Auto Plaza allowed supporters to choose which organization they wanted to receive the donation. They did this by listing each eligible organization on the Wes Finch Auto Plaza Facebook page.  The community then voted by simply "liking" the photo of the logo that represented their favorite organization. At the end of the voting period, the organization with the most votes ("likes") received the $1,000 donation.
Wes Finch Auto Plaza plans on hosting another round of the Facebook contest in June. Community-focused organizations interested in participating should email wesfinchautoplaza@gmail.com with their contact information.
Wes Finch Auto Plaza is a franchised new car dealer in Grinnell, Iowa selling Chevrolet, Buick, GMC, Chrysler, Dodge, Jeep and Ram vehicles. The dealership has been a family owned and operated dealership for over 38 years and has a focus on servicing and caring about their customers – not just for one sale, but for a lifetime. Wes Finch Auto Plaza takes pride in being the dealership where you always get a great deal and a great deal more. Visit www.wesfinch.com for more details.