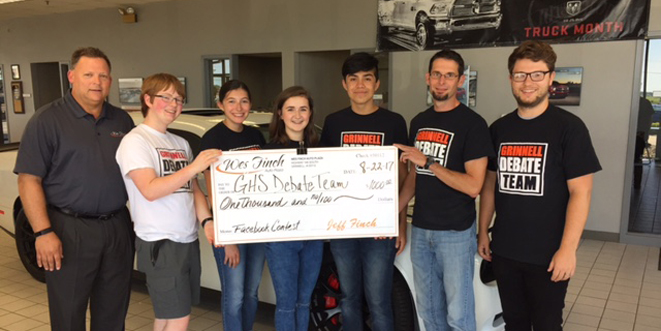 Wes Finch Auto Plaza Awards $1,000 Donation to Grinnell High School Debate Team!
 GRINNELL, IA (August 24, 2017) – The Grinnell High School Debate team is the most recent winner of the Wes Finch Auto Plaza Donation Contest.  Jeff Finch presented the team with the $1,000 prize at the Wes Finch Auto Plaza dealership in Grinnell.  The GHS Debate Team competed with 16 other local community-focused organizations and ended up gaining the most Facebook likes during the month and came away victorious.
The GHS Debate Team has had much success this past year as Central Iowa Debate League Champions and the Top 3A school at the Iowa High School State Speech Association contest.  Per Mr. Crites and Mr. Ellis with the GHS Debate Team, the $1,000 prize money will be put to the travel budget, as well as paying entry fees for contests.
Wes Finch Auto Plaza has contributed to Grinnell and other local community efforts via the Facebook contest, to the tune of "well north of $10,000" over the past four years. The contest is held every 3-4 months, and is a month long competition with approximately 15-20 local organizations participating each time.  If you know of a local charitable organization or nonprofit that would like to participate in the Wes Finch Auto Plaza contest please contact wesfinchautoplaza@gmail.com.