Wes Finch Auto Plaza Awards $1,000 Donation to Grinnell Band Boosters!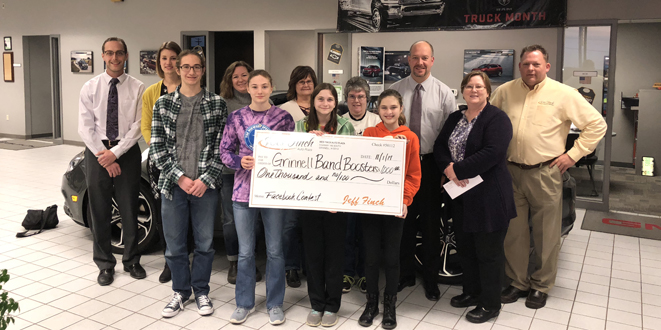 GRINNELL, IA (December 5, 2017) – Wes Finch Auto Plaza finished off this year's donation contest with a $1,000 donation to the Grinnell Band Boosters! Voting took place in October, and the winner was announced on November 1st. Grinnell Band Boosters did a wonderful job of engaging their Facebook followers, and pulled ahead in the final week of voting!
The Grinnell Band Boosters strive to maintain enthusiastic interest in band activities in the Grinnell-Newburg schools. Parents and community partners work together to support all band students in grades 5th-12th. The organization works closely with band directors to find ways to help students of all income levels participate in band activities, by offsetting expenses like contest entrance fees and uniforms.
During this competition, 14 community-focused organizations participated. Supporters were encouraged to "like" the logo of one of the eligible organizations pictured on the Wes Finch Auto Plaza Facebook page. At the end of the voting period, the organization with the most votes ("likes") received the $1,000 donation.
This contest has continued for over three years! Wes Finch Auto Plaza has been able to donate over $10,000 to local, worthwhile nonprofits and charitable entities.  The contest happens every 3-4 months, and is a month-long competition with approximately 14-17 local organizations participating each time.
Wes Finch Auto Plaza plans to host more rounds of the Facebook contest in 2018. Community-focused organizations interested in participating should email wesfinchautoplaza@gmail.com with their contact information.
Wes Finch Auto Plaza is a locally owned Chevrolet, Buick, GMC, Chrysler, Dodge, Jeep, RAM dealer located in Grinnell, Iowa. Wes Finch Auto Plaza is proud to be the home of the Warranty Forever! True Peace of Mind Forever on New and Pre-owned vehicles! For more information visit http://www.wesfinch.com/.
###