Homepage Slider
Wes Finch Auto Plaza Awards $1,000 Donation to Central Iowa Christian School!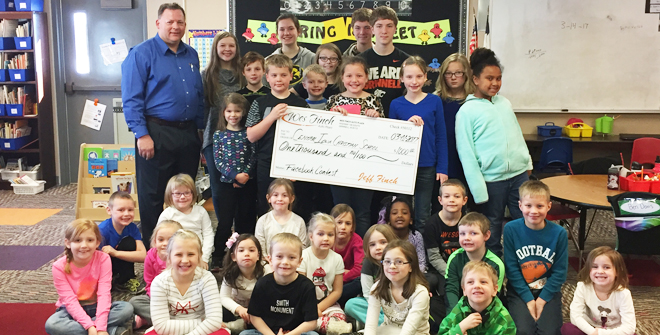 Wes Finch Auto Plaza Awards $1,000 Donation to Central Iowa Christian School!
GRINNELL, IA (March 22, 2017) – Wes Finch Auto Plaza has kicked off this year's donation contest with a $1,000 donation to the Central Iowa Christian School! Voting took place February 1st through February 28th, and the winner was announced on March 1st. Central Iowa Christian School did a fantastic job engaging their Facebook followers, and it all came down to a furious comeback in the final week of the contest in which they beat out top contenders – Grinnell Fire Department and the Grinnell Debate Team!
The Central Iowa Christian School is an elementary and middle school located in Grinnell that offers Christ-centered education to students in Central Iowa. The school is designed to prepare students for positive and active lives in the world, and develop their individual abilities, talents, understandings and interests.
The Wes Finch Auto Plaza donation contest has continued for over three years resulting in $10,000 in donations to local, worthwhile nonprofits and charitable entities.  The contest happens every 3-4 months, and is a month long competition with approximately 15-17 local organizations participating.  During this competition, 17 community-focused organizations participated. Supporters were encouraged to "like" the image on the Wes Finch Auto Plaza Facebook page that represented the organization they wanted to win the donation. At the end of the voting period, the organization with the most votes ("likes") received the $1,000 donation.
Wes Finch Auto Plaza plans on hosting another round of the donation contest in June. Community-focused organizations interested in participating should email wesfinchautoplaza@gmail.com with their contact information.
Wes Finch Auto Plaza is a franchised new car dealer in Grinnell, Iowa selling Chevrolet, Buick, GMC, Chrysler, Dodge, Jeep and Ram vehicles. The dealership has been a family owned and operated dealership since 1977 and has a focus on servicing and caring about their customers – not just for one sale, but for a lifetime. Wes Finch Auto Plaza takes pride in being the dealership where you always get a great deal and a great deal more. Visit www.wesfinch.com for more details.