Grinnell News
Wanted: Seven taskforce coordinators for part-time AmeriCorps positions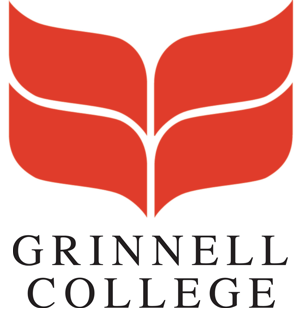 Wanted: Seven taskforce coordinators for part-time AmeriCorps positions
Coordinators will work with volunteer groups supporting community education projects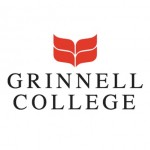 GRINNELL, Iowa — The Grinnell AmeriCorps Partnership is seeking individuals who love community and education to serve in seven part-time, short-term taskforce coordinator positions. Applications will be accepted through Monday, Jan. 9, 2017.
"Building on the momentum of the successful projects initiated in the first year of the Grinnell AmeriCorps Partnership, taskforce coordinators will work with volunteer taskforce groups to continue supporting community education projects," said Melissa Strovers, program and communications manager of community enhancement and engagement at Grinnell College. "The Grinnell AmeriCorps Partnership has seven open taskforce coordinator positions to fill in January."
Applicants should be interested in education and community, have demonstrated an ability to bring people together in order to get something done, have strong project management skills, and interact well with people, especially youth, from diverse backgrounds.
All taskforce coordinators will start work in late January 2017 and conclude their work in early June 2017, with the exception of the taskforce coordinator for summer learning programs, who will work through mid-August.
When the positions begin in January, all taskforce coordinators will receive an orientation and training to learn about the program's mission, priorities and responsibilities, as well as national AmeriCorps rules and regulations.
AmeriCorps taskforce coordinators will serve at community host-sites with experienced supervisors in their respective focus areas: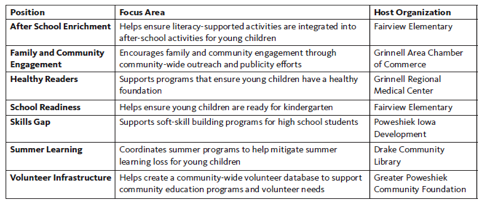 The successful applicants will receive an AmeriCorps living allowance and a Segal AmeriCorps Education Award (upon successful completion of service), and may receive loan forbearance for qualified student loans.
Applications are available online at www.grinnell.edu/gap/members. The application packet includes detailed service descriptions, benefits, qualifications and the application form.
Completed applications, which are due Monday, Jan. 9, can be e-mailed to communityenhance@grinnell.edu or mailed to Community Enhancement and Engagement at 733 Broad St., Grinnell, Iowa 50112.
For more information about the Grinnell AmeriCorps Member Service positions, send an e-mail to communityenhance@grinnell.eduor call 641-269-3900.
About AmeriCorps
AmeriCorps engages more than 75,000 members in intensive service annually to serve through nonprofit, faith-based, and community organizations at 25,000 locations across the country. These members help communities tackle pressing problems while mobilizing millions of volunteers for the organizations they serve. Since 1994, more than 900,000 Americans have provided more than 1.2 billion hours of service to their communities and country through AmeriCorps. For more information, visit NationalService.gov.
 About Grinnell College
Since its founding in 1846, Grinnell has become one of the nation's premier liberal arts colleges, enrolling 1,600 students from all 50 states and from as many international countries. Grinnell's rigorous academic program emphasizes excellence in education for students in the liberal arts; the college offers the B.A. degree in a range of departments across the humanities, arts and sciences. Grinnell has a strong tradition of social responsibility and action, and self-governance and personal responsibility are key components of campus life. More information about Grinnell College is available at www.grinnell.edu.