Homepage Slider
Vets Commission Marches Forward with Building Renewal, Artist Residency Plans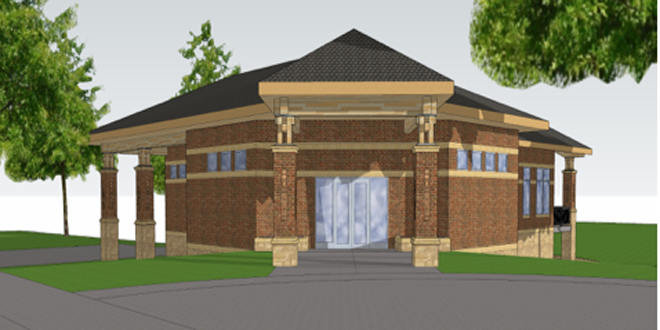 Vets Commission Marches Forward with Building Renewal, Artist Residency Plans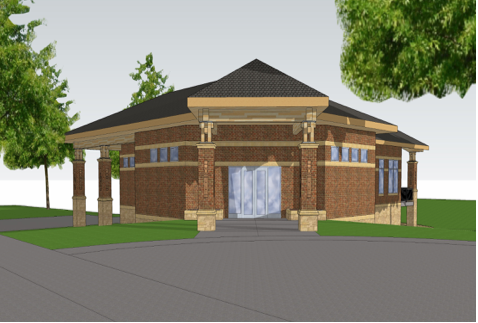 By Michael McAllister
If all goes according to plans, the Veteran Memorial Building at the northwest corner of Central Park will one day look approximately like the picture above, a concept produced by John Bushong and Tom Lacina and presented by Lacina Monday evening, April 10, at the regular meeting of Grinnell's Veterans Memorial Commission in the Community Room at the Drake Library.
Lacina first submitted his proposal, which he calls the Central Park Artist Residency, at the commission's January meeting.  He has provided updates in both February and March and now April.
The artist residency presentation was the main feature of the meeting and of discussion from those attending, but other business opened the session.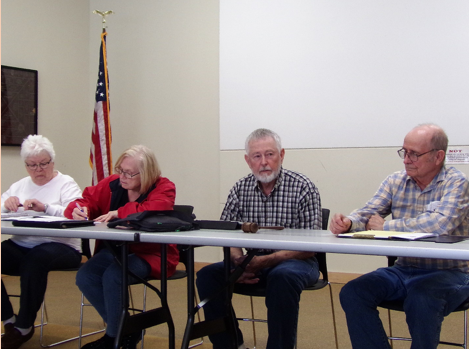 First, Commission Chair Leo Lease welcomed the newest member to the board—George Fowler, pictured above, far right.  The organization now consists of Gwen Rieck, Vice Chair, far left; Marie Andrews, Recording Secretary; Lease, and Fowler.
A veteran of the United States Army, Fowler's service days extend to the Korean War, although he reports his time in the conflict was only three weeks.  He had been assigned to Korea and was home on leave before his deployment when the Korean Armistice Agreement was signed.  That was a situation he does not regret.
Fowler's main post-army employment was at Maytag in Newton.  He retired before the closure.
Some four or five years ago, Fowler first expressed interest in serving on the Veterans Memorial Commission, but then he was advised he "was too old"—an ironic situation, he acknowledges, since it is unlikely he has grown younger from that time to the present.
The commission remains one member short of the five-member requirement because Ed Adkins has stepped down.
Following roll call and approval of March minutes and the April agenda, Lease called for a budget report from Nicole Brua-Behrens of the Greater Poweshiek Community Foundation.  She reported "just under $30,000" and will send a full report to Leo Lease.
On the topic of funds, one question was raised about the monthly Pizza Ranch fundraiser that has been in place for well over a year.  At this event, veterans serve customers and bus tables and present all tips and donations to the building fund; in addition, Pizza Ranch donates 10% of sales.
Some people believe that the event is the third Thursday of the month, and some believe it is the fourth Thursday of the month.  This month's event is already set for April 27 (the fourth Thursday).
"Let's make it the third Thursday of the month," proposed George Fowler, and general agreement with that suggestion followed.  Lease reported that the decision would be recorded in meeting minutes.
At this point, the commission yielded to Tom Lacina, below, who has been donating time and effort to his proposal since his January presentation.  John Bushong has also volunteered considerable hours to the design phase of the concept, and Lacina singled out Randy Hotchkin as contributing valuable information and resources toward program development.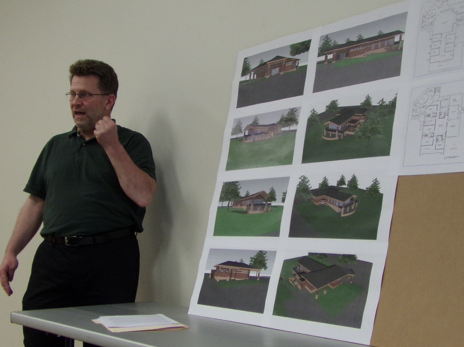 The project attains a new level of possibility and desirability with clear renderings to support plans.
Lacina delivered the following update, some of which summarizes previous presentations.
Aesthetics
As the drawings demonstrate, Bushong and Lacina have worked to maintain the architectural integrity of Central Park improvements, even down to the detail of ornamentation on the tops of pillars that ties to embellishments on the Jewel Box Bank.
Lacina feels that the renderings satisfy or at least address three often-raised objections to a Veteran Memorial Building renovation project.
First, the building is unattractive.  Yes, Lacina acknowledges—as any neglected building is apt to be.  Renovation will solve that problem.
Second, Central Park is "different."  Yes again, but the design elements help the building blend with the park, and additional features—such as a balcony that spans the south side of the building and wraps around to border approximately half of the east side (see below)—will make the building and its occupants and visitors well connected to park events.
Third, the building—whatever its state—blocks a view of the Jewel Box Bank.  This is an objection that does not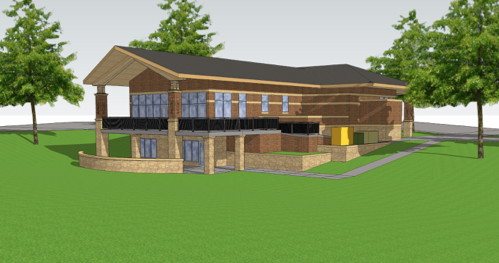 lend itself well to compromise; a building is either there or it is not.  Lacina is on the side that wants it to stay.
There is no signage on the renderings at this point, Lacina explained, because time ran short and because he and John Bushong feel signage is somewhat beyond the scope of their expertise.
Operations
Lacina observes, "The artist residency concept is not widely understood," but it is a strongly emerging feature of the artistic community, and Lacina's ten-year involvement with Grin City Collective on his farm north of town makes him uniquely qualified to speak about and to plan such programs.
The Central Park Artist Residency would become part of a network of artist retreats; it would present a variety of programs, changing over time, involving about 50 artists per year engaging in approximate four-week stays.
"The selected artists will arrive by car, plane, and bus, set up their studios and living quarters and get to work," Lacina writes.
That work would not be secluded in a studio by a brooding, misanthropic artist; rather, community engagement would be a requirement of the program.
Veteran artists would be given preference, but veteran status would not be a requirement.
Programs would be open to all the arts (painting, sculpting, music, writing, performing, woodworking, quilting, and even ice sculpture) and additional programs—such as art therapy for veterans dealing with some level of Post-Traumatic Stress Disorder—could be established.
Since the Veteran Memorial Building has served as a community center in the past, that function would be retained.  The meeting room would be available for community events, and it could also be used in the artist residency program.  Lacina gave the example of people coming to Grinnell to work with an artist over a weekend.  Such an event, perhaps once a month, would generate revenue and would contribute to efficient use of the space.  In fact, two other spaces in the proposed design of the building could serve similar purposes.
The blueprints designate one space to the left of the lobby as one enters "Veterans' Meeting Room."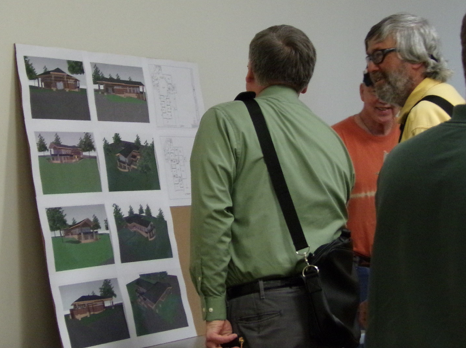 Another recent development noted by Lacina is that Grinnell's Arts Council has agreed to consider becoming the operating entity of the Central Park Artist Residency should the latter become reality.  The Arts Council was "very careful on how they worded" the agreement, Lacina added, and it is too early to work out all details, but at least the Council "will be open" to overseeing the enterprise.
The dedication of an artist residency to veterans, the rural location of Grinnell, and the innovations in progress in Central Park make this proposal ripe for marketing opportunities, Lacina states, and give it the potential to become nationally recognized as a unique and vital asset to veterans, to artists, and to Grinnell.
Questions as to operations involved what programs might be available through federal or state agencies such as the Veterans Administration and the National Foundation for the Arts.  Lacina deferred to Randy Hotchkin, who has been researching various programs and resources.  He reported that grant possibilities exist, but deadlines have passed for the current year.  Some programs are also in doubt due to cuts proposed by President Trump's budget.
"Folks have been talking to Joni Ernst," Hotchkin continued.  "[There are] conversations going on."  Nicole Brua-Behrens has also been in touch with federal representatives.  The responses have been encouraging.
Referring to an earlier statement of Lacina's, Hotchkin affirmed, "It's a lot of digging, and you find something once in a while."
Hotchkin stressed cooperation with the city and a strong business plan as two essential steps opportune at this time.
Obligations
Leo Lease observed that 218 days remain until the November vote, and the issue of funding was addressed.  The levy, if passed, will generate close to $112,000 per year for 20 years, according to Lacina's report.  "The cost to property owners is 41 cents per $1,000 of real property valuation," or $41 per year for twenty years on a house valued at $100,000, the report continues.
Of that $112,000, Lacina proposes $80,000 going annually to support operations and programming.
Additional funding opportunities involve donations, grants, sponsorships, and revenue generated by operations.
As for the total cost of plans now proposed, Lacina cites a high-end estimate of $2 million.
The November decision at the polls is a critical issue.  "I expect major donors and grant providers will make their commitments contingent on the levy passing," Lacina's report states.
But What If…?
What if the levy does not pass?  This consideration introduced the concept of an alternative plan—referred to as Plan B—and whether one is necessary at this time.  The same question generated discussion at the March meeting.
"That is a discussion we need to have," Leo Lease stated.
Lease sees this issue as significant in securing city cooperation.
Considerable discussion followed, with the consensus from speakers in the audience being that all efforts should be directed toward the Lacina proposal and that a Plan B proposal is premature at this time.  Should the levy fail, some sort of Plan B would be required—but not now.
Meanwhile, people should feel free to discuss ideas and to offer alternatives.  Least stated, "There are people that don't feel comfortable to come here" and express opinions.  "That should not be the case."  All ideas are welcome, he stressed.
"We can agree," Lease concluded, "that this [Plan A] is our focus."  As for the timing of Plan B, Lacina predicted that the reality of financial support for the Central Park Artist Residency—or the lack of that support—ought to become apparent by September or October of this year, and that then, should the prospects appear bleak, the need for a Plan B or a variety of options will become more acute.
Renderings to Reality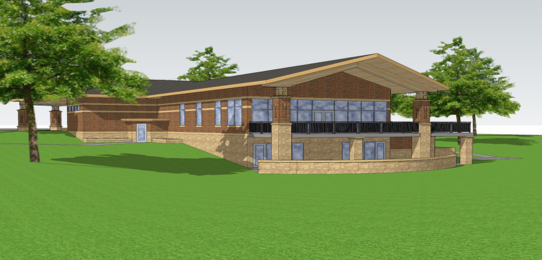 The above picture shows the Veteran Memorial Building as it would appear from the southwest looking toward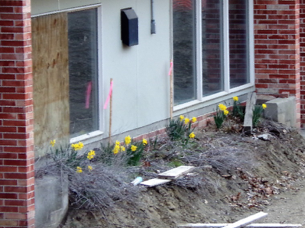 the northeast.  In reality, that view is not quite so attractive at present.  Still, there is something to note—daffodils.
With a small space of soil to sustain them, and with the chaos of construction barely at bay, daffodils are blooming heartily nonetheless at the south end of the Veteran Memorial Building.
The flowers might be said to represent the renewal of spring, the persistence of beauty, and the efforts of those who envision a renovated Veteran Memorial Building with a new emphasis—the Central Park Artist Residency.
Spring is a season of hope, and there is hope for a resolution to issues that have surrounded the Veteran Memorial Building and its role in Grinnell for so long.
The next meeting of the Veterans Memorial Commission takes place on Monday, May 8, at 5:15 p.m., at the Story Room of the Drake Community Library.