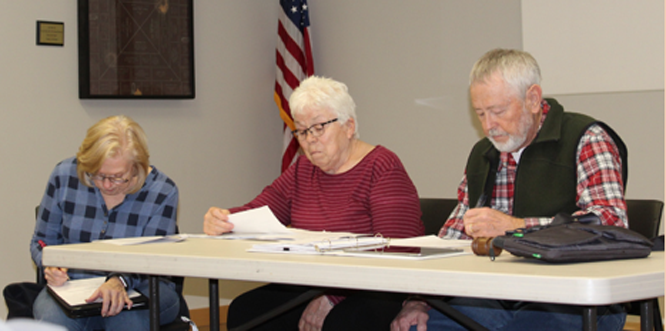 Veterans Commission Amps Up Campaign with Amperage Marketing & Fundraising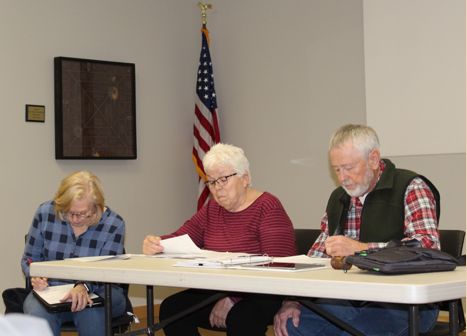 By Michael McAllister
"I propose that the Veterans Memorial Building in Grinnell's Central Park be restored and renovated to commemorate the services rendered by soldiers, sailors, and marines of the United States by making the space into a national artist residency with a special commitment to veterans."
With those words at the January 2017 meeting of Grinnell's Veterans Memorial Commission, Tom Lacina launched a potential resolution to the condition and use of the Veterans Memorial Building in Central Park, an issue that had been perplexing Grinnellians for several years.
Lacina's proposal established a clear purpose for the building, expanding that purpose to something workable and sustainable, honoring the contributions of veterans and including the potential of services to veterans, enlarging the scope of the building's significance to a potentially national level—all the while appealing to the diverse interests of and providing common ground for stakeholders.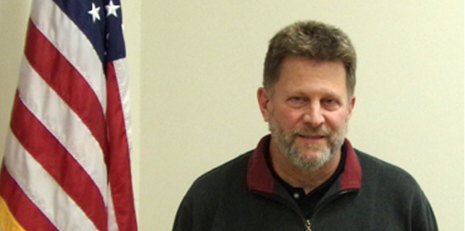 Tom Lacina at the January 2017 Veterans Memorial Commission meeting.
One year later, with the community supporting a tax levy to help fund the Prairie Star Residency Program, the Veterans Memorial Commission, at its January 15 meeting, passed a resolution with specific provisions to move the project forward.
But first, there was routine business to handle after Commission Chair Leo Lease called the meeting to order at 5:15 p.m.  Three of four commission members were present; George Fowler was not.  Twelve people, including Mayor Dan Agnew and At-large City Council Representative Byron Hueftle-Worley, made up the audience.
Following approval of a slightly amended agenda and the minutes of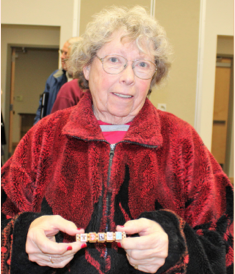 the December meeting, Lease called upon Nicole Brua-Behrens of the Greater Poweshiek Community Foundation for a fund update.  She reported a balance as of December 31, 2017, of $24,782.
However, before that figure was released, Brua-Behrens made the unexpected announcement that she had just received a check in the amount of $600 from Maretta Grattan, right, who has been fashioning and selling veterans-related bracelets at $5.
"She's been busy!" Brua-Behrens commented.
Grattan also credited Sharon Johnston, Marie Hotchkin, and Gwen Rieck, Veterans Commission member.  Bracelets are available from any of the four women and at RJ's Barbershop at 929 Main in Grinnell.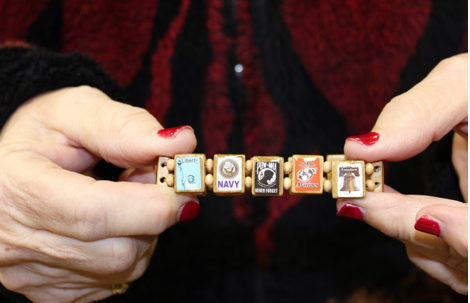 Shifting from contributions to expenditures, Lease discussed bills on file, the first being an Alliant Energy statement of $76.92.  The energy used, Lease explained, provides air circulation throughout the building and is a necessity.
A second expenditure of $500 is a monthly payment to the Bill Menner Group for fundraising planning.  Lease stated that he had received several questions about that expense.  He explained that strategic fundraising requires a degree of expertise, and the fact that Bill Menner has already put together a committee including former U. S. Representative Leonard Boswell and former U. S. Senator Tom Harkin proves that the fundraising group is well worth its fee.
One bill, however, presented problems–$190.74 from Meardon, Sueppel, and Downer, an Iowa City law firm.  The charge has to do with a Menner organization contract and press release.  The contention on the part of the commission is that the commission had no say in the bill-approval process.  At Lease's request, Marie Andrews had researched the matter and could find no indication official involvement.
"Anything that we approve as a payment should be something that we ordered," Lease commented.
Lease has discussed the matter with Mayor Agnew, who acknowledged a problem.  The bill was withdrawn from the motion to approve payments and was tabled for another time.
Moving to Old Business, Lease reported positive results from a meeting he attended involving representatives from the City Council, Grinnell Area Arts Council., the Greater Poweshiek Community Foundation, and the Bill Menner Group.
The meeting prompted Lease to consider some legal issues, and he contacted the Poweshiek County Attorney and made inquiries.
"I'm going to meet with her Wednesday, and we'll get some answers," Lease said.
During general discussion of this matter, reference was made to another meeting with a firm called Amperage Advertising and Marketing, with locations in Des Moines, Cedar Rapids, Cedar Falls, and Bettendorf, an organization that strives—according to its corporate slogan—to "move the needle."
"The real excitement begins when we motivate someone to act,"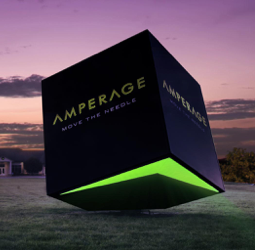 states the company's website.
To clarify the need for such a company's involvement, Tom Lacina commented, "This [the Prairie Star Residency Program] has to be not just a local project but a national project, or at least a state-wide project."  He continued with a description of Amperage and how the firm operates.  Within Amperage's portfolio, he noted, is work for all three state universities, the Iowa State Bar Association, and "multiple projects all across Iowa."
Most of the fundraising done in Grinnell to date has been local in nature.  Lacina referred to the library, the high school addition, and the Grinnell Area Arts Council.  The Prairie Star Residency, however, is a different type of project that requires a high level of marketing and fundraising expertise.
Amperage, Lacina noted, can provide that expertise and offers a fee schedule that draws incrementally from proceeds; thus, an organization is never left owing should a project not go fully forward.
Additional commentary from Lease led to consideration of a Resolution, a New Business agenda item that acknowledges and would initiate the following:
The Veterans Memorial Commission has approved the concept of a restored and renovated Veterans Memorial Building in "a condition architecturally consonant with the other buildings in Central Park and the concept of "a national artist residency with a special, but not exclusive, focus on veterans."
"The community voted on November 7, 2017, in favor of a levy" to support the project.
The Veterans Memorial Commission hereby further "APPROVES and ENDORSES the restoration and renovation of the Grinnell Veterans Memorial building in a manner consistent with the architecture in Central Park for the purpose of housing a national artist residency that will provide a special, but not exclusive, focus on veterans and for the purpose of ancillary programming and community and veteran use of the community space as appropriate and consistent with the national artist residency program.
The Veterans Commission "further APPROVES" three items:

That "a Description of Programming be submitted to the City for discussion and feedback" and subsequently, when approved, "to the Grinnell Area Arts Council for its discussion and feedback."
That "funds in the amount of $24,300 be utilized to proceed" with an Implementation Study proposed by Amperage Marketing & Fundraising.
That "a commitment to the goal of raising the necessary private renovation funds on a national scale with no further reliance on property taxes" be recognized.
Following a roll call vote, the commission unanimously approved the Resolution.
During the inquiry portion of the meeting, Tom Lacina added some explanation about fundraising.  He said, "Some people are offering [to contribute]," but timing is important.  "We want to be confident on where we're going," citing the study that Amperage will provide as key to a successful fundraising appeal.
The meeting was adjourned at approximately 5:57 p.m.  The Veterans Memorial Commission will meet next on February 12, 2018, at 5:15 p.m. in the Community Room of the Drake Library.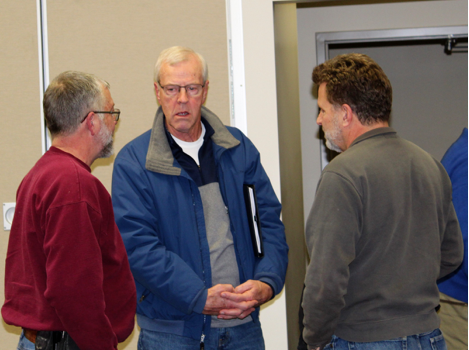 City Council Representative Byron Hueftle-Worley, Mayor Dan Agnew and Tom Lacina visit after the close of the meeting.